Eating Carrots Helps You See in the Dark
Or so I've been told. And since carrots are cheaper than night-vision goggles, I think I've got yet another vegetable to look out for at the farmer's market. (BTW, look for the really orange carrots: the more orange they are, the more beta-carotene they've got!)
Unfortunately, eating raw carrots makes my tongue itch (weird, I know), so I did some research into cooked carrot recipes. My cooking blog database did not disappoint:
Carrot-Cabbage Pancake with Herbed Sour Cream
When life hands you allergy-inducing carrots, make pancakes! I motto I can get behind. Big Girls, Small Kitchen has a recipe for "an egg-based dish that's crispier than a frittata, and less egg-y than an omelet."
I remember the first time I had okonomiyaki—I was at a Japanese restaurant with my college friends, and one of them was describing this dish to me: "It's a pancake with mayonnaise on top." Both revolted and intrigued, I ordered this dish—and devoured it. And now, thanks to Closet Cooking, I can make it for myself!
Roasted Whole Carrots with Rosemary and Honey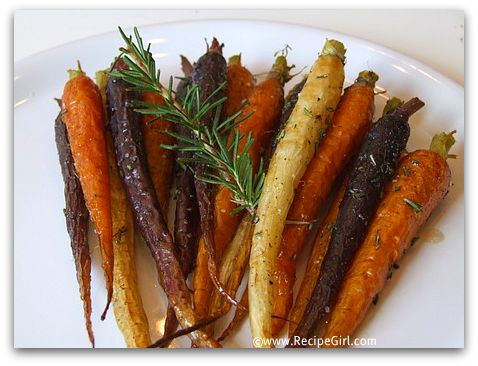 Look at all these crazy-colored carrots! This dish from Recipe Girl is very simple—you really are just roasting the carrots and adding rosemary and honey—but makes beautiful use of different carrot varieties. I wonder how many carrot varieties I can find at the Union Square Greenmarket? (Perhaps I'll post with an answer)
Single-Layer Classic Carrot Cake
This cake is a thing of beauty. As The Kitchen Sink rightly points out, "Carrot cake and cream cheese frosting are one of the most celebrated marriages in all American cookery—right up there with peanut butter & jelly; grilled cheese & tomato soup; meatloaf & mashed potatoes."
I can't bear to post another recipe—that carrot cake is too astounding of an act to follow. Stay tuned for more cooking blog round-ups on seasonal recipes!