Keen on Green Beans
Last weekend, when I was at the Union Square Greenmarket, I saw some vendors offering green beans. I'm sad to report that I grew up eating green beans out of a can, but now that I've discovered how delicious they taste steamed with some butter, the vegetable is now one of my favorites.
Here's a quick peek into some of my favorite cooking blogs' green bean recipes:
This recipe from Closet Cooking simply adorns some freshly steamed green beans with maple syrup and grainy mustard. This dish looks like a cinch to pull together, but Kevin promises that "the sweetness of the maple syrup counterbalances the strength of the mustard and the tartness of the vinegar."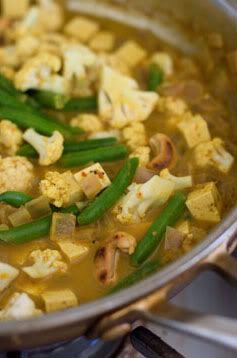 Heidi at 101 Cookbooks has a highly adaptable recipe for cashew curry. As an added bonus, the recipe includes a note on how to make your own curry powder! Maybe I should add "spice grinder" to my wishlist.
Green Beans with Celery-Salt Butter
From the ever-reliable Epicurious blog, another recipe that showcases the seasonal green beans' fresh, crispy flavor. I don't have any celery salt in my pantry, but between this recipe and homemade bloody marys, it looks like I've got good reason to!
I'm toying with whether or not to try out a green bean recipe when the Borzoi Cooks (tentative name?) reconvene for another cooking session. What do you think? Care to recommend a focal ingredient?