Minty Fresh Recipes
There is nothing minty fresh going on outside as I write this, but in hopes that the weather will one day realize that New York City in the summer is not supposed to resemble Seattle in the winter, I rounded up some minty recipes. Mint can really go with anything, from salads to fish and from drinks to dessert. Here are just a few of my favorite recipes from our blogroll:
Roasted Eggplant with Chiles, Peanuts, and Mint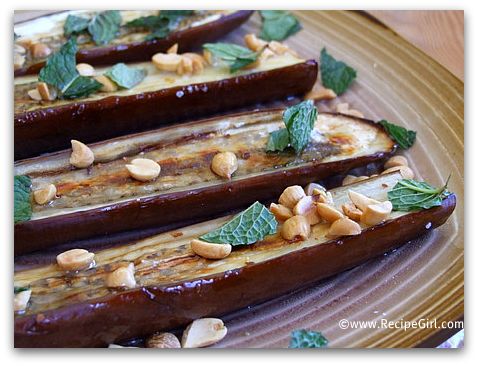 This dish from Recipe Girl looks like one of those appetizers you throw together within minutes in your kitchen, and then you bring it out at your party to much acclaim.
Fish Tagine with Chermoula, Preserved Lemon, and Mint
There's no picture associated with this post, which makes me terribly sad, as I'd love to see how this dish came out. Phoebe's story behind this recipe made me long for distant lands, and I was also relieved to learn that one can prepare tagines in a Dutch oven. I'm a fan of Big Girls, Small Kitchen—it's encouraging to look to other cooks as they grapple with small kitchens (and small budgets) in the big city.
You know how they say "Love is a many-splendored thing?" Well, so is this cake recipe from Cookie baker lynn. The bottom layer contains chocolate and vanilla, the middle layer contains white chocolate and peppermint extract, and the top layer is a chocolate glaze. (The mint leaves would act as garnish.) The thought of this dessert is banishing gloomy weather from my mind.
Zucchini Rolls with Goat's Cheese (Makis au Chèvre)
This "maki" roll idea is so clever: nami-nami substitutes zucchini slices for the traditional seaweed wrapper, and instead of sushi, the maki filling consists of figs, hazelnuts, mint, and goat cheese. This looks like a quick, but impressive appetizer.
I saved the best for last…
Thank you, thank you, Over the Hill & On a Roll, for pointing me towards this Bon App recipe for "the quintessential mint julep." One of my great sadnesses in life is that I do not own a set of pewter julep cups.
Get cozy with your mint muddler, and stay tuned for more seasonal recipes.