On Tour: Julia Glass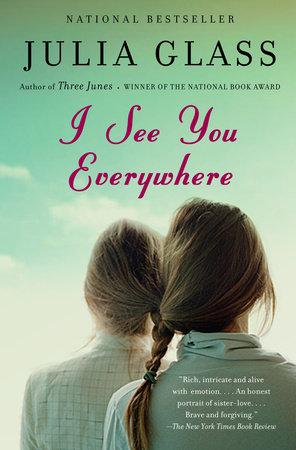 I See You Everywhere
by Julia Glass
NATIONAL BESTSELLER
A Christian Science Monitor Best Book of the Year
"Rich, intricate and alive with emotion…. An honest portrait of sister-love and sister-hate—interlocking, brave and forgiving—made whole through art."
—The New York Times Book Review
Louisa Jardine is the older one, the conscientious student, precise and careful: the one who yearns for a good marriage, an artistic career, a family. Clem, the archetypal youngest, is the rebel: committed to her work saving animals, but not to the men who fall for her. In this vivid, heartrending story of what we can and cannot do for those we love, the sisters grow closer as they move further apart. All told with sensual detail and deft characterization, I See You Everywhere is a candid story of life and death, companionship and sorrow, and the nature of sisterhood itself.
Keep clicking:
• Browse Julia Glass's tour events.
• Read an excerpt from I See You Everywhere.
• Print a free reading group guide.