The Sister by Poppy Adams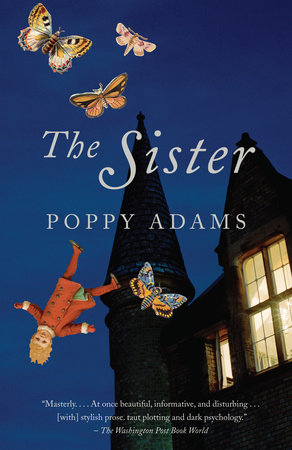 "Masterly…. At once beautiful, informative, and disturbing…[with] stylish prose, taut plotting and dark psychology."
—The Washington Post Book World
Born into a long line of distinguished lepidopterists, scientists who study moths and butterflies, Ginny and Vivien grew up in a sprawling Victorian home. Forty-seven years later, Ginny lives there alone, tending to her moths and obsessions amid the ghosts of her past.
But when her sister Vivien returns to the crumbling family mansion, dark, unspoken secrets rise, disrupting Ginny's ordered life and threatening the family's fragile peace. Told in Ginny's unforgettable voice, this debut novel tells a disquieting story of two sisters and the ties that bind—sometimes a little too tightly.
Keep clicking:
• Read an excerpt from The Sister.
• Print a free reading group guide.
• Browse praise for the book.