A Few Corny Thoughts
Corn on the cob: nature's gift to the hapless cook. There are few tastier and simpler ways to enjoy summer than by throwing a cob on the grill or boiling a cob and using the fresh, sweet kernels in a dish. Obviously, if you're going to go to the trouble of buying fresh corn on the cob, it's best eaten the day it's purchased. However, if necessary, you can refrigerate corn cobs in their husks for up to two days.
Once you've mastered corn on the cob, you're ready to kick it up a notch: check out the recipes below for ingenious ways to include corn from the cob.
Grilled Corn with Cilantro-Lime Butter
First off, learn to dress up your corn with some fancy butters. This one from Over the Hill and On a Roll is a cinch: salted butter, chopped cilantro, and lime juice—you're done.
Corn on the Cob with Smoked Paprika Butter
Kristin from The Kitchen Sink points out that "the key to any great compound butter is this: start with good, fresh butter, let it soften up quite a bit and use a light hand in mixing in punchy flavorings." She's absolutely right: lately, I've been using organic butter in my cooking, and I can't believe the difference it makes in taste quality. Also, I've been remembering to leave the butter out at room temperature when I know I'll be using it in a recipe, which has made my cooking life so much more pleasant. No more blending cold, unyielding blocks of butter with a floppy spatula!
I love these "throw everything delicious together in a bowl" recipes. This salad from Aggie's Kitchen does not disappoint.
Chicken and Summer Vegetable Tostadas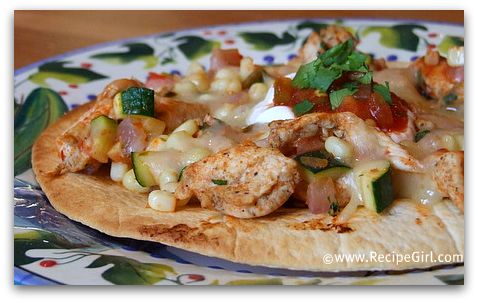 Recipe Girl offers up another one of the "throw everything delicious together" recipes, but instead of using a bowl, you put everything on a tortilla. What a brilliant way to enjoy the excess of delicious summer vegetables out there.
I hear a lot about finite resources in this country, but I have reason to believe that corn isn't one of them. So fellow Americans: I urge you to gorge yourself. See you next week!