You Say "Tomato," I Say "Good Idea"
Tomatoes are the emblem of summer. More than any other fruit or vegetable, a rosy red tomato announces to your palate: "This is the heyday of summer, and I have arrived!" For those of you who have been lulled by winter's bland, tasteless tomatoes, a ripe, fresh tomato should smell zingy and flavorful and should yield slightly to pressure. That is, it shouldn't be too squishy, but it shouldn't be rock hard either. Keep tomatoes at room temperature until they are ripe, and then endeavor to use them within a day or two. Like bananas, do not put tomatoes in the refrigerator! This will affect their flavor.
The Atlantic's secret to enjoying the summer tomato harvest is a little bit of salt "to make the flavor vivid." And while you're at it, you may as well "drizzle over excellent extra-virgin olive oil—maybe a drop or two of sherry or balsamic vinegar—and/or a few torn basil leaves." Et ça, c'est tout. Be sure to eat soon after assembly, because the salt will soon make the tomato runny.
Shauna at Gluten-Free Girl would probably agree with The Atlantic. She writes, "Once we have eaten a case of tomatoes with sea salt over the sink, we do start thinking of other ways to eat them." Her idea? Smoked tomato salsa—which can be prepared with or without a smoker.
Tomato, Cucumber, and Radish Salad with Yogurt and Tahini Dressing
I recently had a falafel sandwich with tahini dressing after months of falafel dormancy, and it served as a reminder of how tasty tahini dressing is. Ergo, this salad from Kalyn's Kitchen, which must taste divine (and the healthiness of the recipe doesn't hurt either!).
Do you remember when my co-workers and I tried to prepare fried green tomatoes from the Neelys' cookbook? And how long we searched for green tomatoes, only to have to settle on yellow tomatoes? And Bridget slaved over a skillet full of hot oil? Who knew you could oven-fry tomatoes instead! I like how Susan at FatFree Vegan Kitchen replaced the traditional cornmeal-and-egg mixture (or cornmeal-panko-buttermilk-and-hot-sauce mixture, if you're the Neelys!) with a mixture of ground flax seeds and water for a vegan take on the recipe.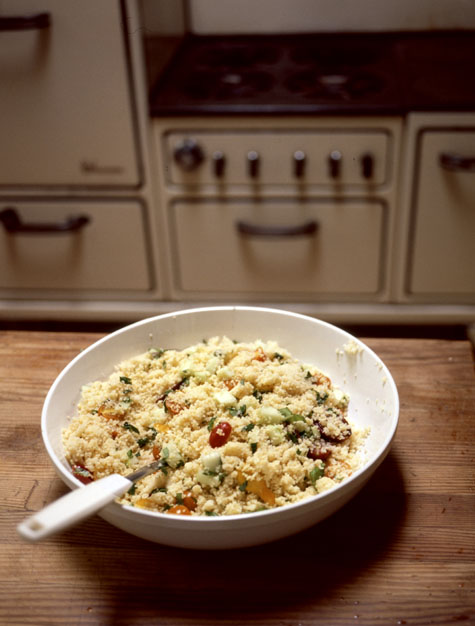 I am always looking for a quick-and-tasty couscous meal. I must admit that I depended pretty heavily on those couscous-mixes-in-a-box when I first moved to NYC, but Heidi at 101 Cookbooks makes it  clear that making your own mixes from scratch doesn't take much longer.
That does it for this installment. Next, I'm working on a post about my adventure making a delicious peach shortcake from Suzanne Goin's most excellent seasonal cookbook, Sunday Suppers at Lucques. Stay tuned!