Julian Barnes Confronts the Great Unknown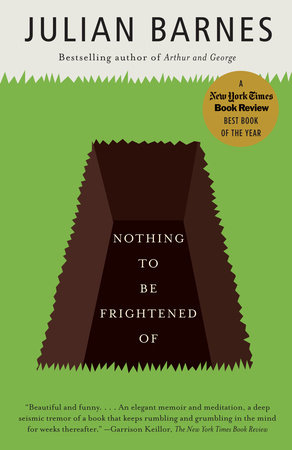 NATIONAL BESTSELLER
A NEW YORK TIMES BEST BOOK
OF THE YEAR
In his new bestselling memoir, Nothing to Be Frightened Of, author Julian Barnes offers a meditation on mortality to which any of us can relate. With humor and wit, Barnes takes on this weightiest of subjects and relates his own personal journey trying to come to terms with an irrational fear of death. The result is a riveting display of how this supremely gifted writer goes about his business and a highly personal tour of the human condition and what might follow the final diagnosis.
Praise for Nothing to Be Frightened Of:
"Beautiful and funny. . . . An elegant memoir and meditation, a deep seismic tremor of a book that keeps rumbling and grumbling in the mind for weeks thereafter." –The New York Times Book Review
"A delicious mix of personal reminiscence, family history, literary criticism, and philosophical speculation." –The Philadelphia Inquirer
"Beautifully done . . . an extended meditation on human mortality, but one that is neither clinical nor falsely consoling. Instead, the witty and melancholic author simply converses with us about our most universal fear." –The Washington Post
"Surprisingly jocular—although also dead earnest . . . highly literary, thoughtful but playful." –San Francisco Chronicle
More praise….
Keep clicking:
• Print a free reading group guide.
• Read an excerpt.
• Purchase your copy.