Holiday Cookies Blog Round-up
If the number of holiday party invitations in my inbox is any invitation, 'tis the season for some quick, but tasty desserts. I may be trotting out the same holiday dress I wore last year, but no one's going to notice if I arrive with a platter of cookies. However, keep in mind that not every cooking recipe will do this season. As Recipe Girl writes, "Holiday cookies should look like holiday cookies!" So get thee to the sprinkle aisle, because I've got some cookie recipes for you:
Chocolate-Peanut Butter Snowballs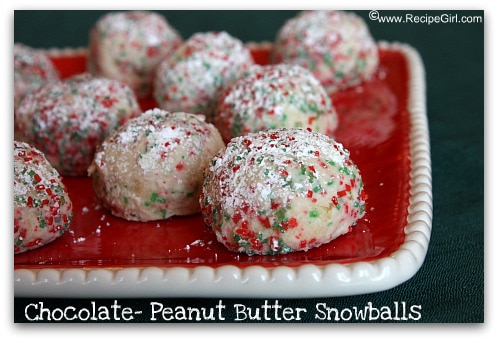 These cookies are similar to the Mexican Wedding Cookie, but Recipe Girl sneaks some chocolate peanut butter into the centers. In other words, these cookies contain the best surprise ever.
It's not just the sprinkles that make the holiday cookie—you can also rely on two of the most reliable holiday flavors: peppermint and ginger. Heidi at 101 Cookbooks opts for the potent chocolate and ginger combo.
Lynn of Cookie baker lynn opts for peppermint in this fudge recipe. I'm keeping my eye on you, fudge. You nearly came between me and fitting into my holiday dress in the Fudge Debacle of '08. This year, I am only going to have one fudge square per day.
Aunt Debbie's Butter-butter cookies
And, yes, it is possible to make a holiday cookie recipe that doesn't include chocolate. But butter is a must! Alicia at bread & honey reveals her aunt's recipe for the "UBER CHRISTMAS COOKIE—the platonic cookie, in other words—THE PERFECT COOKIE." Calling on Plato's myth of the caves to describe these cookies? My inner English major is salivating!
While we're on the subject of butter cookies, I might have to pass along a family recipe, too. However, the family isn't mine, it's Suzan Colón's. In her memoir, Cherries in Winter, Suzan writes about how family recipes provide the comfort she—and really, all of us—need to get by in hard times. And Suzan's recipe for overcoming adversity? Butter cookies. Check out the recipe and read on as the Doubleday gals take it on!
May all your cookies be perfectly baked this holiday season. Warm wishes from the cookie monsters at Knopf Doubleday.