The Woman Behind the New Deal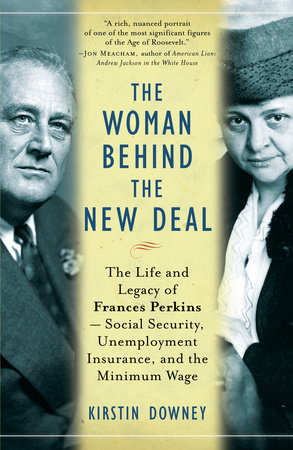 Social Security…the minimum wage…unemployment insurance. Can any American imagine life without them? These programs and many others are all the legacy of one of the most significant and influential women in American history, yet until now she has remained largely unknown.
"Kirstin Downey's lively, substantive and—dare I say—inspiring new biography of Perkins…not only illuminates Perkins' career but also deepens the known contradictions of Roosevelt's character." —Maureen Corrigan, NPR's Fresh Air
One of Franklin Delano Roosevelt's closest friends and the first female secretary of labor, Perkins capitalized on the president's political savvy and popularity to enact most of the Depression-era programs that are today considered essential parts of the country's social safety network.
Frances Perkins is no longer a household name, yet she was one of the most influential women of the twentieth century. Based on eight years of research, extensive archival materials, new documents, and exclusive access to Perkins's family members and friends, this biography is the first complete portrait of a devoted public servant with a passionate personal life, a mother who changed the landscape of American business and society.
Frances Perkins was named Secretary of Labor by Franklin Roosevelt in 1933. As the first female cabinet secretary, she spearheaded the fight to improve the lives of America's working people while juggling her own complex family responsibilities. Perkins's ideas became the cornerstones of the most important social welfare and legislation in the nation's history, including unemployment compensation, child labor laws, and the forty-hour work week.
Arriving in Washington at the height of the Great Depression, Perkins pushed for massive public works projects that created millions of jobs for unemployed workers. She breathed life back into the nation's labor movement, boosting living standards across the country. As head of the Immigration Service, she fought to bring European refugees to safety in the United States. Her greatest triumph was creating Social Security.
Written with a wit that echoes Frances Perkins's own, award-winning journalist Kirstin Downey gives us a riveting exploration of how and why Perkins slipped into historical oblivion, and restores Perkins to her proper place in history.
Keep clicking:
• Read an excerpt
• Print a free reading group guide
• View author tour events