It's All in Your Bread
The Borzoi Cooks wowed me with their preparation of James Beard's oatmeal bread last week and inspired me to look into making bread, too. Fortunately, the internets is full of excellent bread ideas. I tried to stick to the more breadlike recipes, both savory and sweet, but it wasn't long before my eyes drifted into the cake-bread hybrids. Here are some of the best recipes I encountered from our ever-astonishing blogroll (scroll down to check out the roster in our right sidebar).
Irish Soda Bread with Dried Cherries & Raisins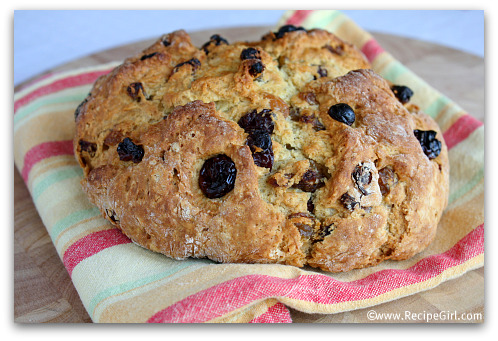 I like to keep it seasonal around here, and with St. Patrick's Day right around the corner, this is the bread for me. If you follow along with the photos on Recipe Girl's post, you'll see that this bread couldn't be easier to make.
Just look at this lovely loaf! Cookie Baker Lynn offers up this lightly sweet cake as an antidote to the quantity-over-quality mentality: just a slice (or maybe two) of this lemony bread will satisfy your afternoon hunger pangs. I can see this being the perfect accompaniment to a cup of tea.
Salami rolls. The name alone makes me want to high-five everyone in my office. What a brilliant idea from Baking Delights!
Sweet Potato Mascarpone Bourbon Bread
This is one of those recipes wherein you consider the name and think, "Yes, I like every single one of those words." I bet the sweet potato and mascarpone makes for an incredibly moist bread, and the bourbon gives it a nice kick. The Knopf Doubleday Publishing Group recently engaged in a bake-off with our Operations and Information Technology group (yes, it gets pretty corporate around here), and I suspect if I had come across She Simmers's post earlier, I woulda had the competition in the bag. But alas, Knopf Doubleday lost to OPSIT's well-executed Little Baby Jesus Cake and Lemon Meltaways.
Monkey Bread with Cream Cheese Glaze
Now this is what I meant by those alluring cake-breads. Monkey bread barely falls into the category of bread, considering the biscuity dough is dipped in melted butter, rolled in brown sugar and cinnamon, and topped with cream cheese glaze. Nope, monkey bread definitely falls into the give-me-a-heart-attack dessert category. But I'm not complaining, and neither is Smitten Kitchen.
If this post has given you a hankering for breadmaking, but you'd like to start with the basics, sign up for our cooking newsletter—next week I'm going to e-mail out the recipe for James Beard's authoritative oatmeal bread recipe.