Does Your Reading Group Need Some Comic Relief?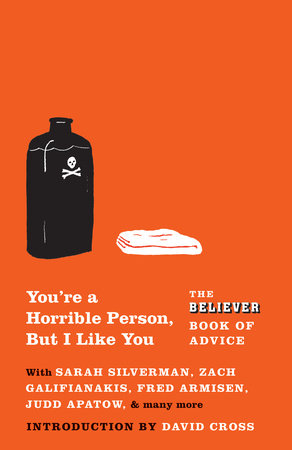 Looking for some light reading? Does your reading group need a bit of a pick-me-up? Don't take our advice here at the Reading Group Center…take the advice found in You're a Horrible Person, But I Like You.
From some of the brightest, dirtiest, most demented but funny minds in America, You're a Horrible Person, But I Like You from The Believer is a compendium of advice from people who should never give advice.
Originally conceived as a column for The Believer, the book takes some of the biggest names in comedy—from veteran standup comics to up-and-coming writers, actors, and producers from shows like Saturday Night Live, The Office, The Colbert Report, Flight of the Conchords, Arrested Development, and Freaks and Geeks—and lets them run rampant through the advice-giving format.
A book filled with wildly personal questions, radically strange confessions, and truly inappropriate advice, You're a Horrible Person, But I Like You might not solve any of your problems, but it will make them seem more normal.
An excerpt from the book:
Mindy Kaling
Dear Mindy:
My husband is a terrible author. He's been working on the same novel for almost a decade, and I'm so tired of reading his "latest revision." I just can't fake it anymore, and he gets suspicious when I claim to have a headache or eye cramps. How can I avoid his sloppy prose while also sparing his feelings?
Guilty Wife in Baton Rouge
Dear Guilty Wife:
You think the fact that he's bad is the reason you hate reading his stuff, but it's not. When I carried on my decades-long affair with Tom Wolfe—you should've seen the two of us, nattily dressed in matching white suits—he always asked me to read his work. It was dreadful. It got to the point where I had to put down chapter two of The Right Stuff and say: "They go to space, they don't go to space, I don't care anymore!" And he's a good writer. It's torture. I would check in to a women's shelter.
Regards,
Mindy
Click here to read more excerpts from the book.