Bring Tania James's Incredible First Novel to Your Reading Group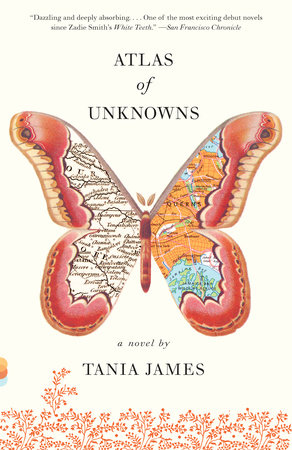 Read Tania James's utterly irresistible first novel, Atlas of Unknowns, the story of two sisters, the yearning to disappear into another country, and the powerful desire to return to the known world.
Linno is a gifted artist, despite a childhood accident that has left her badly maimed, and Anju is one of Kerala's most promising students. Both girls dream of coming to the United States, but it is Anju who wins a scholarship to a prestigious school in New York. She seizes it, even though it means lying and betraying her sister. When her lie is discovered, Anju disappears. Back in Kerala, Linno is undergoing a transformation of her own. But when she learns of Anju's disappearance, Linno strikes out farther still, with a scheme to procure a visa so that she can come to America to look for her sister and save them both.
"Dazzling and deeply absorbing…. One of the most exciting debut novels since Zadie Smith's White Teeth." —San Francisco Chronicle
"Delightful…. James writes with poise, sly humor, and an acuity both cultural and sensuous…. The characters' love for one other radiates off the page." —The New York Times Book Review
"Wise and hilarious. . . . An astonishment of a debut, so radiant with life, with love, with good old human struggle that I had trouble detaching myself from its pages. . . . Tania James comes at you like everyone you've ever cared about, like everyone you've ever lost." —Junot Diaz, author of The Brief Wondrous Life of Oscar Wao
To read more praise click here.
For a reading group guide click here.
To buy the book click here.