The Short Story Takes Flight in Birds of America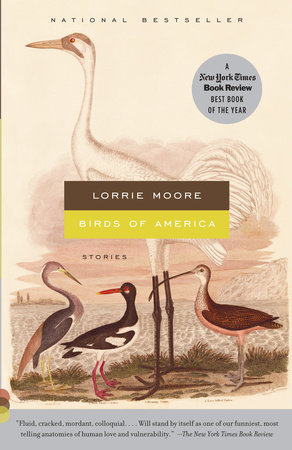 A New York Times Book Review Best Book of the Year
A National Book Critics Circle Award Finalist
Winner of the Salon Book Award
A Village Voice Book of the Year
Upon its original publication, Birds of America put Lorrie Moore on the bestseller list and made her one of America's most treasured authors. With this collection, she proved herself to be a master of the short story form, alternating between humor and poignancy in depictions of the lost and lovelorn. From a holiday game of charades that exposes a family's dysfunction to a Hollywood actress who moves to Chicago and takes up with a man she finds hopelessly dull, Birds of America showcases the heights of the short story.
Praise for Birds of America:
"Fluid, cracked, mordant, colloquial…. Stand[s] by itself as one of our funniest, most telling anatomies of human love and vulnerability." —The New York Times Book Review
"A marvelous collection…. Her stories are tough, lean, funny, and metaphysical…. Birds of America has about it a wild beauty that simply makes one feel more connected to life." —The Boston Globe
"Birds of America stands as a major work of American short fiction…. Absolutely mastered." —Elle
Read more.
Read an excerpt.
Browse discussion resource questions for fiction to guide your group's conversation.