Bad Mother: A Hilarious, Unflinchingly Honest, and Insightful Memoir on Modern Motherhood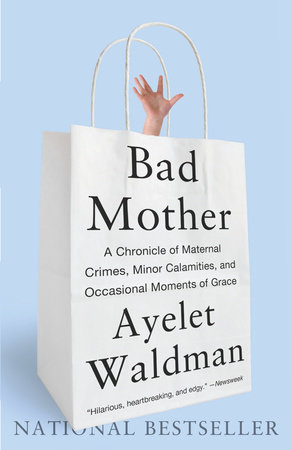 Looking for the perfect mother's day gift? Why not give your mother, Bad Mother. The national bestseller, by Ayelet Waldman arives in paperback next week in time for mother's day. This hilarious, unflinchingly honest, and insightful memoir on modern motherhood would make a wonderful gift.
In our mothers' day there were good mothers, indifferent mothers, and occasionally, great mothers. Today we have only Bad Mothers: If you work, you're neglectful; if you stay home, you're smothering. If you discipline, you're buying them a spot on the shrink's couch; if you let them run wild, they will be into drugs by seventh grade. Is it any wonder so many women refer to themselves at one time or another as a "bad mother"?
Writing with remarkable candor, and dispensing much hilarious and helpful advice along the way—Is breast best? What should you do when your daughter dresses up as a "ho" for Halloween?—Ayelet Waldman says it's time for women to get over it and get on with it in this wry, unflinchingly honest, and always insightful memoir on modern motherhood.
"Bound to stimulate ferocious discussion." —San Francisco Chronicle
"Hilarious, heartbreaking, and edgy." —Newsweek
"Nuanced and thoughtful. . . . Waldman is often an astute commentator on contemporary parenting." —Boston Globe
Click here for an excerpt.
Click here for a reading group guide.
Click here to buy the book.