Bring the Award-Winning Woodsburner to Your Reading Group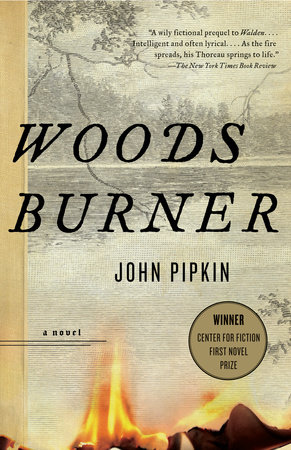 Woodsburner is the winner of the Center for Fiction First Novel Prize and Texas Institute of Letters Award. John Pipkin's novel brilliantly illuminates the mind of the young philosopher at a formative moment in his life and in the life of the young nation. Woodsburner arrives in paperback on May 4th.
The novel is set against the backdrop of a devastating forest fire that Henry David Thoreau accidentally set in 1844. The Thoreau of Woodsburner is a lost soul, resigned to a career designing pencils for his father's factory while dreaming of better things. On the day of the fire, his path crosses those of three very different people, each of whom also harbors a secret dream. Oddmund Hus, a shy Norwegian farmhand, pines for the wife of his brutal employer. Eliot Calvert, a prosperous bookseller, is also a hilariously inept aspiring playwright. Caleb Dowdy preaches fire and brimstone to his followers through an opium haze. Each of their lives, like Thoreau's, will be changed forever by the fire.
"A wily fictional prequel to Walden…. Intelligent and often lyrical…. As the fire spreads, his Thoreau springs to life." —The New York Times Book Review
"Wonderfully grandiose…. Pipkin's portrait of a nation in flux is energetic and optimistic. It's also a remarkably constructed piece of fiction—vibrant, solidly plotted and lyrically yet efficiently composed—and should be a contender for the year's important literary awards." —The Boston Globe

Click here for an excerpt
Click here to buy the book.