Bring Trouble to Your Reading Group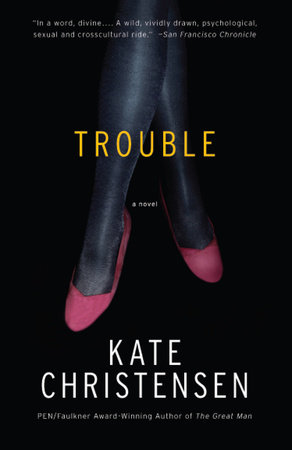 New in paperback today, Trouble by Kate Christensen, the PEN/Faulkner award winning author of The Great Man. Continue reading for an excerpt, author interview, reading group guide, and more!
Josie is a Manhattan psychotherapist living a comfortable life with her husband and daughter. Raquel is a Los Angeles rock star with a platinum album and the attendant money and fame. When Josie realizes her marriage is over, and Raquel finds herself at the center of a scandal, these old friends take off for Mexico City where sweltering heat, new acquaintances, and tequila-fueled nights rapidly spiral out of control. In this vibrant novel, award-winning author Kate Christensen has crafted a bewitching tale of lust, loyalty, and the limits of friendship.
"In a word, divine…. A wild, vividly drawn ride."
—San Francisco Chronicle
"Sharp, clear, and often hilarious."
—The New York Times Book Review
Click here for an excerpt.
Click here for a reading group guide.
Click here for an author interview.
Click here to buy the book.