Read an Author Interview From Richard Russo on That Old Cape Magic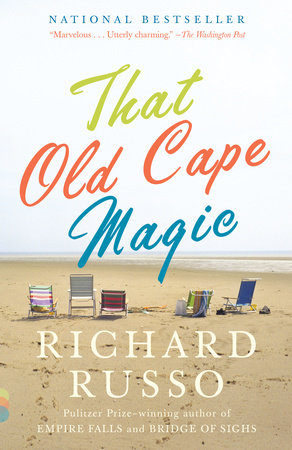 That Old Cape Magic by Richard Russo is finally available today in paperback! Richard Russo won the Pulitzer Prize for his amazing novel, Empire Falls in 2002.
Russo takes us away to Cape Cod with Griffin. For Griffin, all paths, all memories, converge at Cape Cod. The Cape is where he took his childhood summer vacations, where he and his wife, Joy, honeymooned, where they decided he'd leave his LA screenwriting job to become a college professor, and where they celebrated the marriage of their daughter Laura's best friend. But when their beloved Laura's wedding takes place a year later, Griffin is caught between chauffeuring his mother's and father's ashes in two urns and contending with Joy and her large, unruly family. Both he and she have also brought dates along. How in the world could this have happened?
By turns hilarious, rueful, and uplifting, That Old Cape Magic is a profoundly involving novel about marriage, family, and all the other ties that bind.
Q: Why did you choose the Cape?
A: For some time I've been fascinated with the idea of "a finer place" (see Lucy Lynch and Bobby Marconi in Bridge of Sighs). I'm talking about both fiction and real life. Why do people believe that happiness is more likely to find you in one place than another? It has something with what you can and can't afford, what you think you'll one day be able to swing if things go well. Except that even when they go well, you discover it's still unaffordable, which gives the desired place a magical quality. The faster you run toward it, the faster it runs away from you. I chose the Cape because it's always been expensive and just keeps getting more so, but it could have been any number of similar places. For Griffin's parents, two academics, a house on the Cape would have always been just beyond their reach. One of their many dubious genetic gifts to Griffin is a sense that happiness is always on the horizon, never where you're standing. Very American, I think.
Click here to continue reading the author interview.
Click here for an author tour schedule.
Click here for a reading group guide.
Click here for an excerpt.
Click here to buy the book.