Read the Multiple Award Winning Zeitoun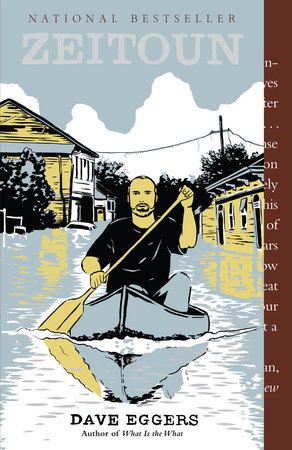 Author of What Is the What, Dave Eggers brings us his newest national bestseller, Zeitoun. Introduce this excellent novel to your reading group, and get your free reading group guide here.
A New York Times Notable Book
An O, The Oprah Magazine Terrific Read of the Year
A Huffington Post Best Book of the Year
A New Yorker Favorite Book of the Year
A Chicago Tribune Favorite Nonfiction Book of the Year
A Kansas City Star Best Book of the Year
A San Francisco Chronicle Best Book of the Year
An Entertainment Weekly Best Book of the Decade
The true story of one family, caught between America's two biggest policy disasters: the war on terror and the response to Hurricane Katrina.
Abdulrahman and Kathy Zeitoun run a house-painting business in New Orleans. In August of 2005, as Hurricane Katrina approaches, Kathy evacuates with their four young children, leaving Zeitoun to watch over the business. In the days following the storm he travels the city by canoe, feeding abandoned animals and helping elderly neighbors. Then, on September 6th, police officers armed with M-16s arrest Zeitoun in his home. Told with eloquence and compassion, Zeitoun is a riveting account of one family's unthinkable struggle with forces beyond wind and water.
Click here for an excerpt.
Click here for a reading group guide.
Click here to buy the book.