Soon to Be a Major Motion Picture, One Day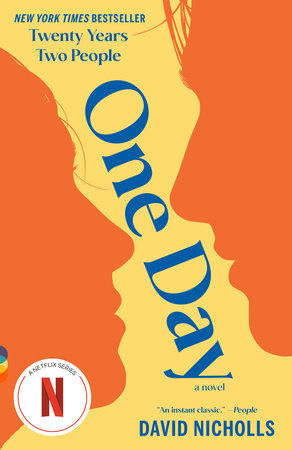 The #1 international bestseller, One Day by David Nocholls arrives in stores this Tuesday, so be sure to pick up your copy. Perfect for reading groups, read this story of one day, two people and the story of a relationship twenty years in the making.
It's 1988 and Dexter Mayhew and Emma Morley have only just met. They both know that the next day, after college graduation, they must go their separate ways. But after only one day together, they cannot stop thinking about one another. As the years go by, Dex and Em begin to lead separate lives—lives very different from the people they once dreamed they'd become. And yet, unable to let go of that special something that grabbed onto them that first night, an extraordinary relationship develops between the two.
Over twenty years, snapshots of that relationship are revealed on the same day—July 15th—of each year. Dex and Em face squabbles and fights, hopes and missed opportunities, laughter and tears. And as the true meaning of this one crucial day is revealed, they must come to grips with the nature of love and life itself.
"A big absorbing, smart, fantastically readable on-off love story." —Nick Hornby from his blog
"A wonderful book: wise, funny, perceptive, compassionate and often unbearably sad." —The Times (London)
Click here for an except.
Click here for a reading group guide.
Click here to buy the book.