Elisabeth Hyde's In the Heart of the Canyon Now in Paperback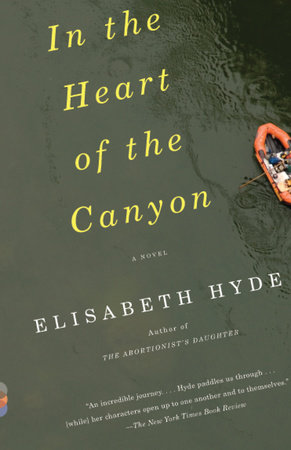 "An incredible journey…. Hyde paddles us through…while her characters open up to one another and to themselves."
—The New York Times Book Review
Elisabeth Hyde's In the Heart of the Canyon is now in paperback, get your copy and introduce it to your reading group!
Over the course of thirteen long days, twelve assorted passengers, three rafting guides and one stray dog will navigate the rapids of the Colorado River through the Grand Canyon together. From their early-morning rise on the shore of the river to the adrenaline rush of paddling through Lava Falls, they will soon come to know each other more intimately than they could have expected. Tempers will flare and decisions will be second-guessed . . . and ultimately all of them, from an unhappy teenager to an aging river guide, will realize that sometimes the most daunting adventures have nothing to do with white-water rapids, and everything to do with reconfiguring the rocky canyons of the heart.
"An excellent armchair adventure…. Hyde vividly portrays both the wonders and horrors of white-water rafting."
—The Boston Globe
Click here for an excerpt.
Click here for a reading group guide.
Click here to buy the book.