July 15th. Two People. Twenty Years. One Day. Get Your Reading Group Guide!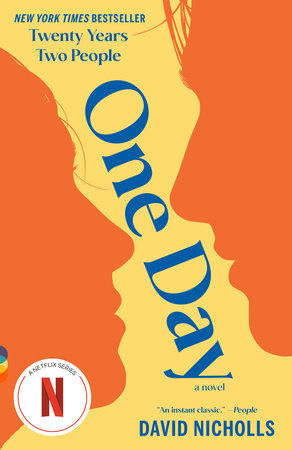 David Nicholls's #1 internationally bestselling novel has been taking the world by storm and soon will be made into a major motion picture in 2011 from Focus Features and Random House Films starring Anne Hathaway and Jim Sturgess.
Pick up your copy of One Day, today on the day that Emma and Dexter meet every year for twenty years, July 15th.
It's 1988 and Dexter Mayhew and Emma Morley have only just met. But after only one day together, they cannot stop thinking about one another. Over twenty years, snapshots of that relationship are revealed on the same day—July 15th—of each year. Dex and Em face squabbles and fights, hopes and missed opportunities, laughter and tears. And as the true meaning of this one crucial day is revealed, they must come to grips with the nature of love and life itself.
"By far my favorite book on the list…. A great, funny, heartbreaking read."
—John Searles, Early Show (CBS)
"One of the most hilarious and emotionally riveting love stories you'll ever encounter…. An instant classic."
—People
Click here for the reading group guide.
Click here for our One Day website for videos, and more content.
Click here for an excerpt.
Click here to buy the book.