On Land, Pip Has Her Share of Problems. But in the Water, Pip is Unstoppable.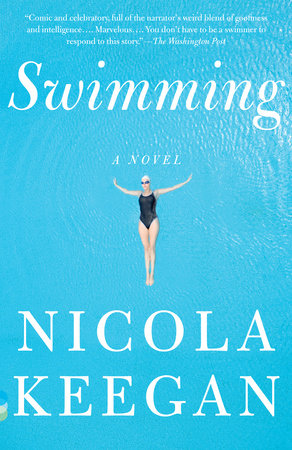 Nicola Keegan's Swimming is now in paperback. Pip, a girl facing more than her fair share of problems, but escapes them all by swimming. Bring this heartwarming title to your reading group!
Born in a landlocked town in the center of Kansas, Pip is tall, flat, smart, funny, and supernaturally buoyant. On land, she has her share of troubles: an agoraphobic mother, a lost father, and a school full of nuns who just want her to sit still. But in the water, Pip is unstoppable. Swimming her way from a small Midwestern team to the Barcelona Olympics, Pip's journey is the story of a young girl with an unsinkable spirit, struggling to stay afloat in the only way she can.
"Keegan's energy jumps off the page…. Swimming is a wonderful coming-of-age story, a richly detailed account of a young woman channeling her rage, grief and insecurity into a passion to win. The voice Keegan has invented for Pip is sarcastic, thoughtful, elegant, irreverent."
—The Boston Globe
"Comic and celebratory, full of the narrator's weird blend of goofiness and intelligence…. Marvelous…. You don't have to be a swimmer to respond to this story."
—The Washington Post
Click here for an excerpt.
Click here for a reading group guide.
Click here to buy the book.