Bring Melanie Gideon's Hilarious Memoir To Your Reading Group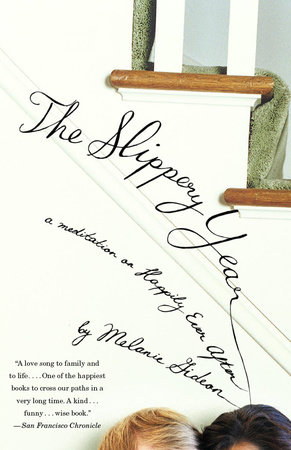 The Slippery Year a disarmingly honest take on marriage and motherhood by a woman who realized she was sleepwalking through life and decided she needed to do something about it.
The Slippery Year chronicles her struggle to rediscover meaning and pleasure in life while navigating the comical ups and downs of cohabiting with a husband, a child, and a dog: mattress wars with her snoring mate, the psychological minefield of the school carpool line, and sending her son to sleep-away camp for the first time. Gideon manages to be laugh-out-loud funny while also reflecting beautifully and movingly on her quest to appreciate what she has.
Best Books of the Year: NPR and San Francisco Chronicle
"Gideon has written a love song to family and to life. What a lovely song it is…. One of the happiest books to cross our paths in a very long time. Kind…loving…funny…wise."
—San Francisco Chronicle
"Hilarious…. A sinuous journey—complete with skids and scraped knees—toward greater engagement with life . . . treated with humor and heart."
—Christian Science Monitor
Click here for an excerpt.
Click here for a reading group guide.
Click here to buy the book.