Read Carolina De Robertis's International Bestseller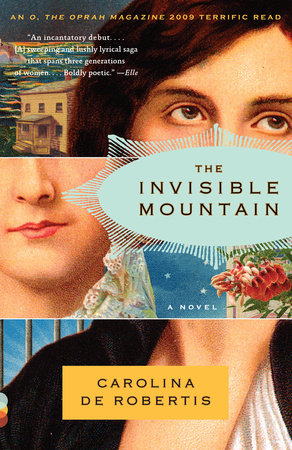 Carolina De Robertis's The Invisible Mountain starts on the first day of the year 1900, a small town deep in the Uruguayan countryside gathers to witness a miracle—the mysterious reappearance Pajarita, a lost infant who will grow up to begin a lineage of fiercely independent women. Her daughter, Eva, a stubborn beauty intent on becoming a poet, overcomes a shattering betrayal to embark on a most unconventional path. And Eva's daughter, Salomé, awakens to both her sensuality and political convictions amid the violent turmoil of the late 1960s.
The Invisible Mountain is a stunning exploration of the search for love and a poignant celebration of the fierce connection between mothers and daughters.
An O, The Oprah Magazine 2009 Terrific Read
A San Francisco Chronicle Book of the Year
"An incantatory debut…. A sweeping and lushly lyrical saga that spans three generations of women…. Boldly poetic…. This visionary book beautifully, bravely breaks open all the old secrets."
—Elle
"A galloping saga…. Its ensemble of women and men [are] bent on living every moment as if on fire…. The kind of novel you stay up late to finish."
—The San Francisco Chronicle
Click here for an excerpt.
Click here for a reading group guide.
Click here to buy the book.