Read the Newest Book From the Booker Prize-Winning, Bestselling Author of Possession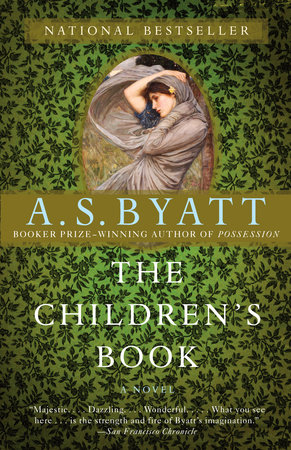 Get your reading group ready to read A. S. Byatt's incredible tale and national bestseller, The Children's Book.
When children's book author Olive Wellwood's oldest son discovers a runaway named Philip sketching in the basement of a museum, she takes him into the storybook world of her family and friends. But the joyful bacchanals Olive hosts at her rambling country house—and the separate, private books she writes for each of her seven children—conceal more treachery and darkness than Philip has ever imagined. The Wellwoods' personal struggles and hidden desires unravel against a breathtaking backdrop of the cliff-lined shores of England to Paris, Munich, and the trenches of the Somme, as the Edwardian period dissolves into World War I and Europe's golden era comes to an end.
"Majestic…Dazzling…Wonderful…. What you see here…is the strength and fire of Byatt's imagination."
—The San Francisco Chronicle
"Bristling with life and invention…. A seductive work by an extraordinarily gifted writer."
—The Washington Post
Click here to read an excerpt.
Click here for a reading group guide.
Click here to buy the book.