The Case for God, Karen Armstrong's Newest National Bestseller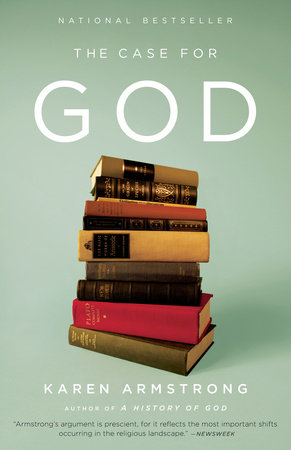 The Case for God by Karen Armstrong is a nuanced exploration of the part that religion plays in human life, drawing on the insights of the past in order to build a faith that speaks to the needs of our dangerously polarized age.
Moving from the Paleolithic age to the present, Karen Armstrong details the great lengths to which humankind has gone in order to experience a sacred reality that it called by many names, such as God, Brahman, Nirvana, Allah, or Dao. Focusing especially on Christianity but including Judaism, Islam, Buddhism, Hinduism, and Chinese spiritualities, Armstrong examines the diminished impulse toward religion in our own time, when a significant number of people either want nothing to do with God or question the efficacy of faith. Why has God become unbelievable? Why is it that atheists and theists alike now think and speak about God in a way that veers so profoundly from the thinking of our ancestors?
Answering these questions with the same depth of knowledge and profound insight that have marked all her acclaimed books, Armstrong makes clear how the changing face of the world has necessarily changed the importance of religion at both the societal and the individual level. Yet she cautions us that religion was never supposed to provide answers that lie within the competence of human reason; that, she says, is the role of logos. The task of religion is "to help us live creatively, peacefully, and even joyously with realities for which there are no easy explanations." She emphasizes, too, that religion will not work automatically. It is, she says, a practical discipline: its insights are derived not from abstract speculation but from "dedicated intellectual endeavor" and a "compassionate lifestyle that enables us to break out of the prism of selfhood."
"Armstrong's argument is prescient, for it reflects the most important shifts occurring in the religious landscape."
—Lisa Miller, Newsweek
"A thoughtful explanation, well-sourced and impressively rooted in the writings of theologians, philosophers, scholars and religious figures through the ages…. If Armstrong is out to bring respect to both reason and faith in the search of that transcendent meaning, she has done well."
—Repps Hudson, St. Louis Post-Dispatch
Click here for an excerpt.
Click here for a reading group guide.
Click here to buy the book.