The Sensational Sixth Installment in Alexander McCall Smith's Isabel Dalhousie Series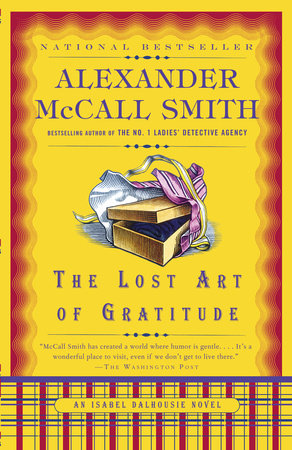 The Lost Art of Gratitude, national bestseller by Alexander McCall Smith arrives to shelves this Tuesday continuing the story of Isabel Dalhousie.
Isabel's son, Charlie, is now of an age—eighteen months—to have a social life, and so off they go to a birthday party, where, much to Isabel's surprise, she encounters an old adversary, Minty Auchterlonie, now a high-flying financier. Minty had seemed to Isabel a woman of ruthless ambition, but the question of her integrity had never been answered. Now, when Minty takes Isabel into her confidence about a personal matter, Isabel finds herself going another round: Is Minty to be trusted? Or is she the perpetrator of an enormous financial fraud? And what should Isabel make of the rumors of shady financial transactions at Minty's investment bank?
Not that this is the only dilemma facing Isabel: she also crosses swords again with her nemesis, Professor Dove, in an argument over plagiarism. Of course her niece, Cat, has a new, problematic man (a tightrope walker!) in her life. And there remains the open question of marriage to Jamie—doting father of Charlie.
As always, there is no end to the delight in accompanying Isabel as she makes her way toward the heart of every problem: philosophizing, sleuthing, and downright snooping in her inimitable—and inimitably charming—fashion.
Click here for an excerpt.
Click here for a reading group guide.
Click here to buy the book.