From the International Man Booker Prize–Winning Author of RUNAWAY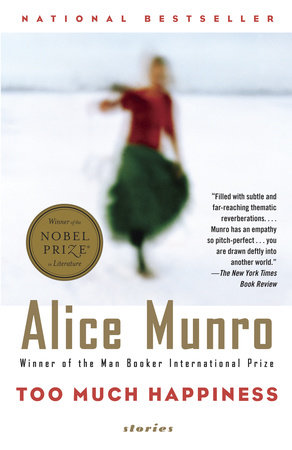 Ten superb new stories by one of our most beloved and admired writers—the winner of the 2009 Man Booker International Prize. New in paperback is Alice Munro's latest bestselling story collection, Too Much Happiness.
With clarity and ease, Alice Munro once again renders complex, difficult events and emotions into stories about the unpredictable ways in which men and women accommodate and often transcend what happens in their lives.
In the first story a young wife and mother, suffering from the unbearable pain of losing her three children, gains solace from a most surprising source. In another, a young woman, in the aftermath of an unusual and humiliating seduction, reacts in a clever if less-than-admirable fashion. Other tales uncover the "deep-holes" in a marriage, the unsuspected cruelty of children, and, in the long title story, the yearnings of a nineteenth-century female mathematician.
"Profound and beautiful." —Francine Prose, O, The Oprah Magazine
"Masterful." —San Francisco Chronicle
Click here for an excerpt.
Click here for a reading group guide.
Click here to buy the book.