A Reading Group Recipe for La's Orchestra Saves the World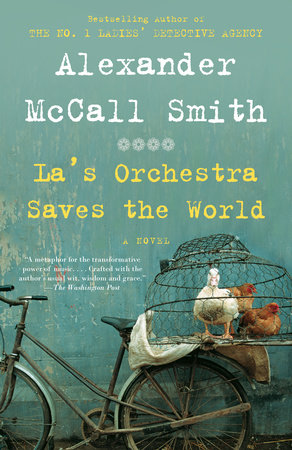 Upon moving to the Suffolk countryside, the titular heroine of La's Orchestra Saves the World plants a vegetable garden and makes a bold declaration: "Whatever happens in the world, I shall not starve here in this quiet corner in England." Sure enough, when the war begins, La joins the Women's Land Army, an all-female labor organization created to stabilize the agricultural workforce. Between her garden and her work on Henry Madder's chicken farm, she's never at a loss for a fresh egg or a green leaf to mix in for her supper. Cooking elaborate meals during wartime was difficult, but as La notes, "People took pleasure where they could find it, and with gratitude."
Eggs, butter, and vegetables are all you need to prepare a delicious Country Scramble, a variation on scrambled eggs that can be found in Eat Me, by the inimitable Kenny Shopsin. As you read Alexander McCall Smith's heartwarming novel, prepare a Scramble for yourself—or enough for your whole group!—and enjoy the simple pleasures of a thoughtful meal. Once you're full, grab your reading group guide and start the discussion. Plus, visit Alexander McCall Smith's official website for updates on new and upcoming adventures from the No. 1 Ladies' Detective Agency, Isabel Dalhousie, 44 Scotland Street, and the brand new Corduroy Mansions series!
Eggs at the ready? Okay: go.
Country Scramble
Spinach with Fried Onions & Cheddar
Serves 2 to 4
Ingredients
6 extra-large eggs
2 tablespoons Clarified Butter, regular butter, or ghee
2 big handfuls of prewashed spinach (about 2 heaping cups)
2 big yellow Spanish onion, thinly sliced and fried
1/4 to 1/2 cup feather-shredded cheddar cheese (depending on how cheesy you like your eggs)
Instructions
Crack the eggs into a bowl, trying to keep the yolks intact. Heat the butter in a large nonstick egg pan over medium-high heat until it just begins to bubble. Add the spinach and cook until it just begins to cook but is not wilted. Carefully slide the eggs on top of the spinach. The whites will drop down in between the spinach leaves. When the whites just start to turn opaque, add the fried onions and sprinkle the cheese over everything. Use a fork to break the yolks and stir them to coat the other ingredients. Continue cooking, turning the eggs gently with the fork, until the eggs are done to your liking. I like them where the whites are like soft-boiled eggs and the eggs are still a bit wet.
Variations on Country Scrambles
I have a long list of Country Scrambles on my menu (PDF). You can probably figure out how to make the items on the list by looking at the ingredients, or you can invent your own Country Scrambles based on ingredients you like. You'll have to think about it with some discernment, but if you are working with ingredients you're familiar with, you'll probably have a sense of how much you want to add of each thing and when you need to add what. If the add-in is wilty, like spinach, or something that needs to be sauteed, like corn, pastrami, or chorizo, then add it first. If the ingredient is something that you want to be crunchy, like fried onions, fried potatoes, or bacon, cook it separately, and then add it after you have added the eggs. Add butter-fatty and delicate ingredients like cheese or avocados toward the end of cooking so they don't disappear into the eggs. The good news is that as long as you're adding ingredients you like, your eggs will taste good.
Some Country Scrambles
– Avocado, gruyere, spinach.
– Sausage, potato, Jack.
– Shrimp, Jack, jalapeno.
– Corn, cheddar, chorizo.
– Ham, potato, cheese.
– Okra, Salsa Roja, cheddar.
– Macaroni, cheese, broccoli.
– Pecans, cheddar, BBQ pork.
– Spinach, tomato, bacon.
From EAT ME by Kenny Shopsin. Copyright 2008 by Kenny Shopsin.