Our 2010 Favorites: Too Much Happiness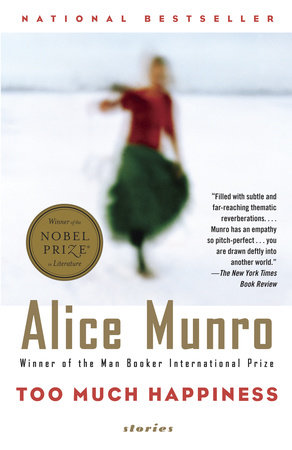 To celebrate the close of this year and the beginning of the next, we've decided to take a look back at our reading family's personal favorites of 2010. Enjoy!
The unnerving and wonderful thing about an Alice Munro story is that, once read, it will always be with you. It is the efficiency with which she opens a world, in twenty pages turning a place like London (Ontario) into a place you've been. After reading this collection, you'll want to discuss the surprising hooks of violence, children — both innocent and evil — and the resilience of women. What would you do if, invited to dinner with an elderly benefactor, you were asked to strip naked before entering the house? What if, widowed and dying of cancer, you opened the door to someone who threatened to kill you immediately? Munro's responses to these questions are so acute they become part of a reader's life experience.
–Kim S., Publicity
– Click here for a Reading Group Guide.
– Click here to read an excerpt.
– Click here to buy the book.
Was there a particular book that you or your reading group couldn't stop discussing this year? Let us know in the comments!