Our 2010 Favorites: Where Men Win Glory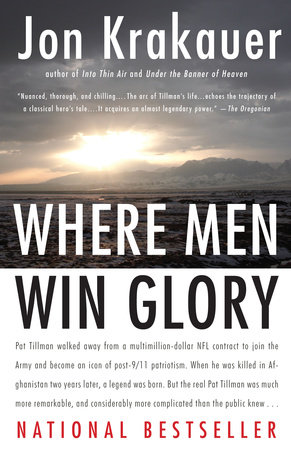 To celebrate the close of this year and the beginning of the next, we've decided to take a look back at our reading family's personal favorites of 2010. Enjoy!
Jon Krakauer, the master of outdoor adventure writing, comes up big with Where Men Win Glory. If there's ever a book that will fundamentally challenge you, this is it. Krakauer writes with tenderness and aplomb about the death of Pat Tillman, the NFL quarterback who walked away from a multi-million dollar contract after watching the planes crash into the World Trade Center on 9/11.
Press-averse, acutely thoughtful, deeply private, and filled with a desire to serve his country, Pat walked into an unpopular war at a time when the Bush administration was having a bad PR moment. When Pat was killed by reckless friendly fire on a hillside in Afghanistan in 2004, the military first reported that he had died in an Al-Qaeda ambush. Further exploration revealed a cover-up of massive proportions, one reaching all the way up to General Stanley McChrystal and Donald Rumsfeld. The Tillmans wanted answers, and the government underestimated this closely-knit family who rejected both the ambush story and the PR frenzy that followed. This book will encourage you to analyze the depths of your patriotism in the face of governmental ambitions, and will revitalize your gratitude for the brave men and women who selflessly decide to serve our country.
–Kate R., Publicity
– Click here for a Reading Group Guide.
– Click here to read an excerpt.
– Click here to buy the book.
Was there a particular book that you or your reading group couldn't stop discussing this year? Let us know in the comments!