Our 2010 Favorites: A Gate at the Stairs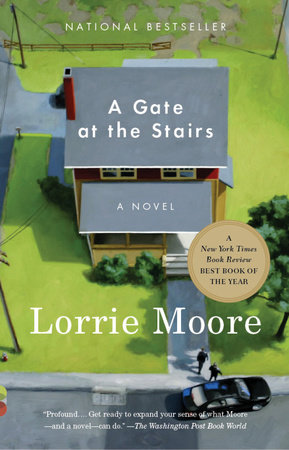 To celebrate the close of this year and the beginning of the next, we've decided to take a look back at our reading family's personal favorites of 2010. Enjoy!
Lorrie Moore is always good, but A Gate at the Stairs goes a long way to show just how perfect a writer she actually is. Ostensibly, it's a bildungsroman about a Midwestern college student named Tassie who takes a job nannying for a white couple prior to their adoption of a black baby girl, and the shared experiences and revelations that change them all. But, really, a description like that doesn't do the book any favors. As with everything else Lorrie Morre has written, it's the smaller stuff — grippingly described minutiae, her attention to human foibles — that really counts (not least of all the incomparable sense of humor and too-good-to-be-true punnery). By the time you finish, you realize you've actually read something of a "big idea" book, but, with the help of some of the most crystalline and sensitive writing I've experienced in a long time, it's gone down so smoothly that you don't feel preached to — just impossibly and infinitely entertained.
–David A., Publicity
– Click here for a Reading Group Guide.
– Click here to read an excerpt.
– Click here to buy the book.
Was there a particular book that you or your reading group couldn't stop discussing this year? Let us know in the comments!