Recipe by the Book: Amy Greene's Appalachian Cathead Biscuits and Gravy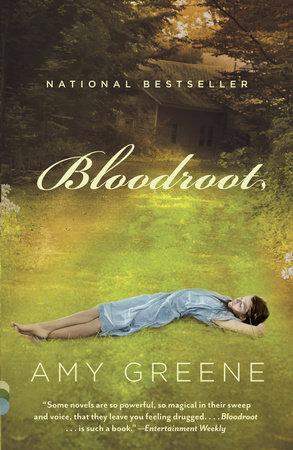 We're pleased to introduce Recipe by the Book, a monthly feature pairing delicious food with discussion-provoking books. Each month, we'll present a recipe that relates to a great reading group pick. Cook it up for your next meeting, or make it for yourself to set the scene while you read.
Author Amy Greene joins us for our series inauguration, bringing with her an authentic and mouth-watering recipe for true Appalachian Cathead Biscuits and Gravy, as featured in Amy's debut novel, Bloodroot. Read an excerpt from the novel, grab the reading group guide, and get to cooking!
A special note from Amy Greene to Reading Group Center readers:
In the mountains of East Tennessee, where I grew up and still live, the tradition of coming together around the table is a big part of our culture. I'll always associate the smell of hot biscuits and gravy with winter mornings in the kitchen of my childhood home. In Bloodroot, Myra Odom's twins Johnny and Laura first sense that their life together on Bloodroot Mountain is about to end when they wake up without the smell of breakfast cooking. Johnny even tries to make biscuits to comfort Laura when Myra's sanity begins to crumble. For them, breakfast waiting on the table is symbolic of their mother's love. I hope this recipe for cathead biscuits and white gravy gives you a little taste of what warmth, safety and home are to my characters and me.
Appalachian Cathead Biscuits
Makes 6 large biscuits
Adapted from Smokehouse Ham, Spoon Bread, & Scuppernong Wine by Joseph E. Dabney (Cumberland House, 1998)
Note: Light, fluffy biscuits require a low-protein, low-gluten flour, such as White Lily all-purpose flour, long a staple of southern baking. White Lily flour can be difficult to find outside the South. Use 2 cups of White Lily all-purpose flour if you can. If not, the best substitute is a combination of a lower-gluten "northern" all-purpose flour, such as Pillsbury, and cake flour.
These biscuits are best served hot, straight from the oven. My mom makes the gravy while the biscuits are baking.
1 cup all-purpose flour (see note)
1 cup cake flour (see note)
1/2 teaspoon salt
1/2 teaspoon baking soda
2 teaspoons baking powder
5 tablespoons unsalted butter or solid vegetable shortening, chilled
3/4 cup cold buttermilk, plus an additional 1-2 tablespoons if needed
1. Preheat oven to 450 degrees F.
2. Mix both flours, salt, baking soda, and baking powder together in a medium-sized mixing bowl.
3. Add the butter or shortening in small amounts, then mix it into the dry mixture thoroughly with a pastry cutter, two butter knives slicing in a scissor fashion, or your fingertips. The finished mixture should have the consistency of course-ground cornmeal, with a few larger lumps of butter remaining.
4. Add the buttermilk all at once. Stir quickly with a fork until mixture forms into a soft ball, about 30 seconds. If dough feels firm and dry bits are not gathering into a ball, sprinkle with an additional tablespoon of buttermilk. Do not over mix. Using your hands (you might want to coat them lightly with flour), gently knead the dough in the bowl about 3 times.
5. Divide dough in half. To make cathead biscuits (so called because they are large, about the size of a cat's head), simply pinch dough into thirds and shape pieces into thick patties. Place the shaped dough on an ungreased cookie sheet or in a large cast iron skillet (it's fine if the biscuits are slightly crowded). Bake for 15 minutes or until the tops of the biscuits are a light golden brown.
6. Serve immediately with butter, jam, honey, or white gravy (recipe below). If serving with white gravy, open the biscuit and smother with gravy.
White Gravy
Makes 1 cup
This recipe comes from a falling-apart Watkins recipe book from the 1940s, passed down from my great-grandfather, who sold Watkins products back then. It was difficult to reach stores at that time in rural Appalachia, so families relied on traveling salesmen from the Watkins Company, offering everything from vitamins to pie filling, for the supplies they needed.
Note: We eat sausage or bacon with our meal of gravy and biscuits, usually with fried eggs and a slice of fresh tomato from the garden on the side. Any kind of milk is fine, but use whole milk if you like your gravy rich, or cream if you like it extra rich.
About 1/2 pound sausage or bacon, for frying (or as much as you wish) (see note)
2 generous tablespoons all-purpose flour
1 cup milk or cream (see note)
Salt to taste
Freshly ground black pepper to taste
1. In a skillet, fry sausage or bacon. Place 2 tablespoons of drippings (or more if you plan to double or triple the recipe) in a medium saucepan. If there aren't enough drippings, add oil or solid vegetable shortening.
2. Whisk flour into the hot drippings over low heat. Raise heat to medium and stir constantly until the mixture bubbles and turns light brown.
3. Slowly whisk in milk or cream. Continue to cook and stir mixture constantly to keep it from getting lumpy, until it thickens and becomes smooth, 2-3 minutes. Season to taste with salt, and sprinkle generously with pepper. If mixture gets too thick, add a little milk or cream to reach desired consistency.
Recipe reprinted by permission from Table of Contents, edited by Judy Gelman and Vicki Levy Krupp of BookClubCookbook.com. Copyright 2011 by Judy Gelman and Vicki Levy Krupp. Table of Contents features recipes, stories, and ideas from fifty excellent authors — including Reading Group Center favorites like Barbara Delinsky, Julia Glass, Jayne Anne Phillips, Abraham Verghese, and many more. Find Table of Contents on Facebook, and read the blog!