Now in Paperback: Julie Orringer's The Invisible Bridge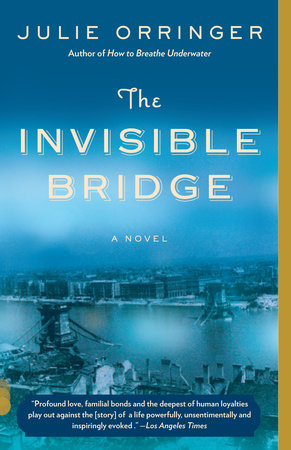 The Invisible Bridge is the debut novel from acclaimed author Julie Orringer (How to Breathe Underwater). Set in Paris and Budapest at the dawning of World War II, The Invisible Bridge is a sweeping, romantic story of love and war. The story begins in 1937, when a Hungarian-Jewish architecture student named Andras Lévi travels to Paris to begin his studies. While in Paris, Andras falls in love with a woman whose mysterious past may alter the course of his–and his family's–history.
The Chicago Tribune called The Invisible Bridge, "Wonderfully evoked," while Vogue said, "What begins as a jewel-box romance soon breaks open into a harrowing sorrow of war. Orringer…conveys a piercing sense of what it means to be fated by one's blood," and The New York Times Book Review declared, "Orringer makes us care so deeply about the people of her all-too-real fictional world. For the time it takes to read this fine novel, and for a long time afterward, it becomes our world too."
Click here to download a Reading Group Guide for The Invisible Bridge, click here to read an excerpt of the book, and click here to read an interview with Julie Orringer.
Have you read The Invisible Bridge with your reading group? What did you think of it? Let us know in the comments!