Hampton Sides On the Trail of an American Tragedy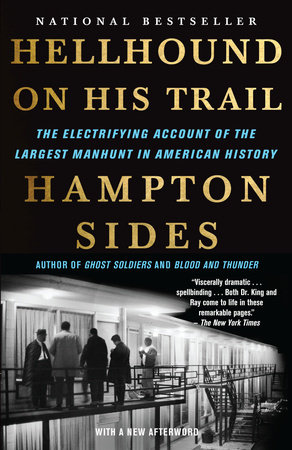 In this masterful follow-up to Blood and Thunder, historian Hampton Sides has written a gripping account of the international manhunt that brought down Martin Luther King Jr.'s assassin, James Earl Ray. Reviewers have described Hellhound on His Trail as one might describe a thriller: The New York Times called it "Viscerally dramatic" while The Oregonian noted it "reads like nothing so much as a novel…creating plenty of old-fashioned suspense."
However, in the new afterword to the paperback edition, Sides takes a different point of view:
"If this book is a thriller, it's also a requiem, the story of the last days of a great figure and the end of his movement. Rather than wrap King in a saintly nimbus, I wanted to make him human on the page, which means flawed, vulnerable, uncertain about the future, and buffeted by the stresses of his high position. But I remain in awe of the man and his soaring eloquence and his otherworldly courage. I'm ashamed that he was killed in my hometown. I am not one of those people who believe he achieved more in martyrdom than he could if he'd lived: Just imagine what influence he would have had on the world today were he still among us. King was the closest thing we've had in our history to a prophet, a heaven-sent agent of social change. People like him come along only ever few centuries."
Hellhound on His Trail is a great choice for any group interested in reading a moving nonfiction book—for those interested in Dr. King's legacy as well as those interested in the complicated social history of the United States. Click here to download a reading group guide, a Q&A with Hampton Sides, and to view some of the source material that Sides used in his research.