Talking With Heather Clay About Losing Charlotte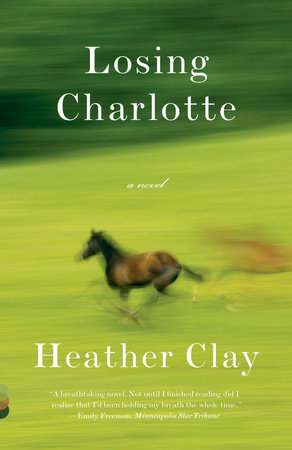 The sisters of Losing Charlotte, the debut novel by Heather Clay, couldn't be more different. Raised together on their parents' Kentucky horse farm, Charlotte eschews the family lifestyle and moves to New York City, while the introverted Knox stays behind. When Charlotte dies suddenly, Knox reaches out to her brother-in-law, Bruce, and offers to help raise her sister's children. Losing Charlotte is ultimately a story about families—those we are born into, and those we create. In the following excerpt from our interview with Heather Clay, she discusses what inspired her to write the book.
Q. This is your first novel. What was your inspiration for writing Losing Charlotte?
A. I had heard of maternal deaths like the one that occurs in Losing Charlotte, and I suppose the inspiration for a book came at the point my imagination took over after the bare facts of such accounts had been related to me. These deaths are rare, but they do happen, and the idea of something so Victorian happening in a modern hospital setting led me to wonder how such an event would affect the modern family – in which, for example, the old-fashioned expectation that a widower might court his wife's surviving sister has ceased to exist, but might be rattling around subconsciously somewhere in the mind of one or more of the characters. The plot and questions that coalesced around such an event brought much that I wanted to explore about family ties, place, and the gaps siblings are asked to fill in for one another to the surface, and the writing took off from there.
Q. The story unfolds in two locations: a horse farm in Kentucky and the West Village in New York City. You live in New York now. Did you grow up on a farm?
A. I did. The setting of Four Corners Farm is almost completely autobiographical; my family runs a Thoroughbred horse farm in central Kentucky, which functions as its own little universe, and had always been a seminal place in my life and writing. The contrast between the two places where I spend the majority of my time – Kentucky and New York – and between the notions of North and South, as well as the community life on a family farm necessitates versus the isolation and independence possible in a large city, seemed fertile ground to plow as I told the story of two sisters with very distinct personalities and lives.
To read the rest of the interview, click here.
Click here to download our reading group guide, and click here to read an excerpt from the book.