The Unbreakable Bond Between Siblings: A True Story by Jane Isay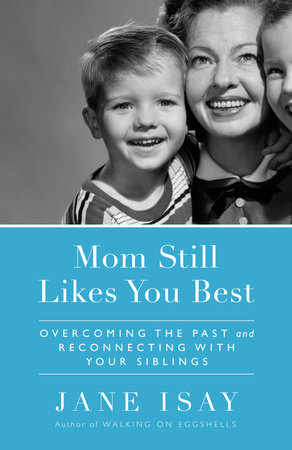 Jane Isay's Mom Still Likes You Best is a thought-provoking look at the complicated and important relationships between brothers and sisters. It's a book that's sure to spark discussion and sharing among your book club's members. In this exclusive essay, Jane opens up about her own difficult sibling relationship—and explains how it has recently changed for the better.
The Unbreakable Bond Between Siblings
by Jane Isay
I have a confession to make. There's a story in Mom Still Likes You Best, in the final chapter, which is about reconciliations, attributed to "a woman I know." That certainly is true, but it is misleading. I know that woman well, perhaps far too well. OK. You guessed it. That story is mine.
For most of our lives, my brother and I didn't get along. We fought as kids, we didn't get along very well as teenagers, and once my brother married and moved across the country, we had little contact. There even was a decade when we had no contact at all. The story of our difficult relationship and our reconciliation starts on page 173 of the book. In the end, I felt such relief to have my brother again, and that our relationship was not only real, but honest and intimate.
Our closeness grew when we shared worries and sorrows, and when we looked after each other, even from afar. Joy is easy; accomplishments and births, birthdays and other good events roll off our tongues with pleasure. But the difficulties, the places where things aren't going well require deep mutual trust, and they ask for a high level of concern and love. I learned that we had each other's back when there was trouble.
Then during the fall between the hardcover and paperback publications of Mom Still Likes You Best, my husband Jonathan, who had always been my brother's favorite, and who was the love of my life, became sick and died within a month of a fatal diagnosis. During that heroic month of courage and caring, pain and laughter, sharing the truth and grieving in advance, my brother knew enough not to phone, because calls take too much time and energy. Instead he sent me a set of the most eloquent emails about love, and loss, and courage. I felt his embrace from afar, and it gave me strength.
He flew in for the funeral and stayed through the days of mourning, and he was about as supportive and loving as a human can be. On his last day, he was due to leave for the airport with plenty of time to spare, but then Hospice called to say they were coming to pick up the hospital bed, the oxygen, and the other accoutrements of final days. My brother said he would stay with me, so I wouldn't have to endure this event by myself.
Mourning and grieving have for me become solitary processes, which I can only do in the privacy of my home. But my brother's constant expressions of love and concern are part of the mix that gives me courage.
In August, long before Jonathan became ill, my brother and his wife sent me a birthday present, the first I had ever received from them. It was a warm a cozy robe. I wore it all winter, and I still put it on when I need a hug. It has become the Magic Overcoat I wrote about on page 69 of my book, never dreaming that such good fortune would be mine. My magic overcoat appeared late in my life. Maybe you can work it out with your brother or sister so you can share that wonderful garment before then.
Click here to download a reading group guide, and click here to read an excerpt from the book.