Win An Advance Copy of Irene Némirovsky's All Our Worldly Goods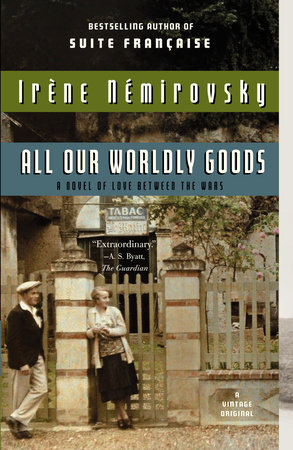 The Reading Group Center is pleased to offer you the opportunity to win an advance copy of All Our Worldly Goods, by Irène Némirovsky. This stunning novel—a sweeping family saga of love and war—hauntingly prefigures Némirovsky's beloved masterpiece, Suite Françiase. It will be published exclusively in paperback in September.
Click here to enter for a chance to win.
Pierre and Agnes marry for love against the wishes of his parents and his grandfather, the tyrannical family patriarch. Their marriage provokes a family feud which cascades down the generations. This brilliant novel—set in France from 1911 to 1940—is full of drama, heartbreak, and the telling observations that have made Némirovsky's work so beloved and admired.
Praise for the UK publication:
"Gorgeous…witty, tender and true." —Financial Times
"Poignant…. A delicate and subtle study of lives swept up by forces beyond their control or understanding." —The Telegraph
"A slender, elegant book which displays an unbroken respect for the resilience of the human spirit." —Daily Mail
"Remarkable…. Her voice, compassionate yet always shrewd, with its sharp portrait of France at war…is always distinctive." —Literary Review