Nora Ephron Will Soon Remember Nothing (in Paperback)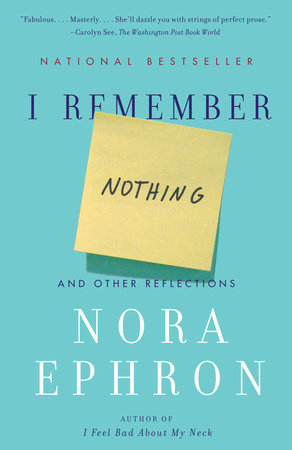 Nora Ephron is back, and we couldn't be happier. The bestselling author of I Feel Bad About My Neck and Heartburn returns with a hilarious book of essays called I Remember Nothing. Filled with insights and observations that instantly ring true—and could have come only from Nora Ephron—I Remember Nothing is pure joy.
"Fabulous…. Masterly…. She'll dazzle you with strings of perfect prose." –Carolyn See, Washington Post Book World
"Breathlessly funny…. Chatty, witty, self-effacing and candid." —Minneapolis Star Tribune
"Candid, self-deprecating, laser-smart, and hilarious…. A master of the jujitsu essay, Ephron leaves us breathless with rueful laughter." —Booklist
"She's never been more real than in this collection—a full pleasure to read." –New York Journal of Books
"Tantalizingly fresh and forthright….. She's like Benjamin Franklin or Shakespeare: her words are now part of the fabric of the English language…. She's familiar but funny, boldly outspoken yet simultaneously reassuring." —Alex Kuczynski, New York Times Book Review
Click here to download our reading group guide.