The Tower, The Zoo, and The Tortoise Author Julia Stuart Discusses One Of Her Favorite Novels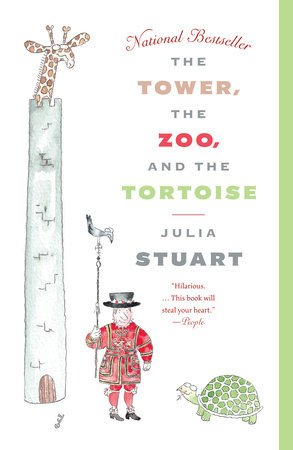 It's hard not to fall in love with The Tower, The Zoo, and The Tortoise. Julia Stuart's novel is the charming and hilarious story of a Beefeater named Balthazar Jones who has recently been tasked with organizing an elaborate menagerie of the many exotic animals gifted to the Queen (not an easy job, as you might imagine). We asked Julia Stuart to tell us about one of her favorite novels, and it will come as no surprise that her pick, The Diary of a Nobody, sounds just as fun and witty as The Tower, the Zoo, and the Tortoise. Read on for Julia's take on this "accidental masterpiece"!
I blame my last novel, The Tower, the Zoo, and the Tortoise. I wrote it after discovering that the Beefeaters guarding the Tower of London actually live there, and are locked in at night. I filled the book with as many fascinating historical nuggets that I could get away with, including the resident polar bear and Lord Nithsdale escaping dressed as a woman. By the time I'd finished, I was seduced by the past, and before I had the chance to recover, my mind was still suitably off-balance to decide to write a historical novel.
As a result, I have been living in April 1898 ever since December 2009. There is something to be said about being obsessive. You end up knowing delightful trivia such as the fact that Victorian gentlemen took to the Thames wearing red stockings. But you end up tormented by the growing pile of newly purchased novels stacked up at the end of your bed, as all other space in the house is filled with books relating to the nineteenth century. It's not the infiltration into the bedroom that bothers me, but the fact that I've forbidden myself to read any of this modern literature, glowing like jewels beyond the duvet, until I've finished my research.
Very happily, a novel has just slipped through my tightly woven net, on the grounds that it was published in 1892. I'd forgotten how wonderful it is to have something so amusing stuffed in my handbag that it makes me snort on public transport. The Diary of a Nobody, described as an accidental masterpiece, was created by brothers George and Weedon Grossmith, with Weedon providing the illustrations. It chronicles the domestic and social life of Charles Pooter, a suburban London clerk with unimpeachable manners and an exceptional work ethic. But while Mr Pooter's life is small, like his diary, it is nonetheless intriguing, filled with mishaps and mortification.
It is not his jokes that raise a laugh, but rather his careful recording of them. After he makes what he deems to be one of the best of his life, he wakes up twice in the night and laughs so much the bed shakes.
What makes him particularly charming is the affection he expresses for his wife, Carrie, who roars at the puns as much as he does. When not amusing himself, Mr Pooter gets quietly cross about things, such as tradesmen and tripping over the boot scraper. He is frequently at home, where he prefers to be, and two friends constantly drop in. On one occasion the evening entertainment consists of sitting on one another's laps in a long line. "We looked very ridiculous, and laughed a good deal."
When he and Carrie are invited to the Lord Mayor's Mansion House Ball, he is unable to contain his excitement and breaks out into a wild polka. Affronted that the local paper fails to mention their attendance, he writes in, highlighting the omission. When it subsequently refers to them as "Mr. and Mrs. C. Porter", he fires off another letter with typically regrettable results:
"May 16—Absolutely disgusted on opening the Blackfriars Bi-weekly News of today, to find the following paragraph: 'We have received two letters from Mr. and Mrs. Charles Pewter, requesting us to announce the important fact that they were at the Mansion House Ball.' I tore up the paper and threw it in the wastepaper basket. My time is far too valuable to bother about such trifles.'
By the last entry, Mr Pooter is still a nobody. But not to me. He polkaed his way into my heart, and it was to my great regret that his diary ends. I keep it out because simply looking at it cheers me. And for that, George and Weedon Grossmith, I thank you, wherever you are.
Click here to read an excerpt from The Tower, the Zoo, and the Tortoise, and click here to download our reading group guide.