Armchair Adventurer: Visiting the North of France In Irène Némirovsky's All Our Worldly Goods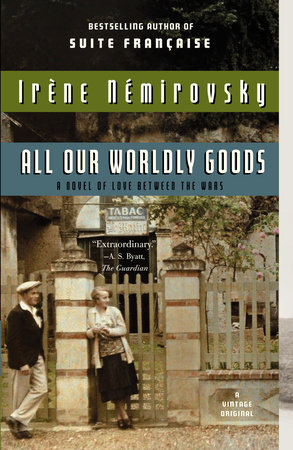 Irène Némirovsky's All Our Worldly Goods is a love story set in France between 1910 and 1940. Star-crossed lovers Pierre and Agnes have grown up side-by-side in a small town by northern France, kept separated by their different social classes. Their marriage is just the beginning of the changes that will ripple through France during the coming wars. In this month's Armchair Adventurer, we take a closer look at the region where Pierre and Agnes fought to make themselves a home.
All Our Worldly Goods is primarily set in the Pas-de-Calais region of northern France. The book opens at Wimereaux-Plage, a beach community overlooking the English Channel. Némirovsky notes the polite distances maintained by the families vacationing at Wimereaux, how each family builds "a fortress out of spades and folding chairs" and how "Each scrupulously respected the possession of its neighbors and defended its own courteously but resolutely." These days, travelers in Wimereaux and the nearby Boulogne-sur-Mer need not guard themselves so carefully. The family-friendly vacation area boasts an excellent historic district called "Old Town," as well as excellent swimming, fishing, and a large aquarium known as Nausicaa. Visitors can also take a walk around the 13th-century ramparts, enjoy medieval art at the Castle Museum, gaze in awe at the Imperial Palace (Napoleon slept there!), or pay their respects to Argentinian General San Martin, whose remains are interred in the Basilica of Notre-Dame's crypt.
Pas-de-Calais has a remarkably diverse geography, from cliffs and valleys to marshes and rolling hills. With no large cities to anchor the region, each town has a unique character all its own. Foodies will find plenty to please them in the local markets and eateries; the region's English-language website has a cuisine finder that will lead you to the best chocolate, sausage, or bread in any town you might find yourself in. Culture buffs can look forward to a hidden treasure in each town—Calais, for instance, is home to Rodin's "The Burghers of Calais," a sculpture that commemorates the town's siege during the Hundred Years' War, and Saint-Omer is home to an impressive gothic cathedral. Click here for an excellent overview of the towns in Pas-de-Calais, including a guide for some of the region's unique dishes, recommendations for lodging, and information about "sand-yachting," a popular beachside pastime.
Early in their marriage, Pierre and Agnes are separated by the onset of World War I, and the people of the small town of Saint-Elme are forced to leave their homes. Némirovsky describes the way in which the townsfolk banded together during wartime: "All the families that had been enemies, divided by a thousand long-standing quarrels and the jealousy caused by status of wealth, were united." Saint-Elme is devastated by the war, with many of its key structures "machine-gunned and bombed, leaving nothing but charred bricks, ashes, ruins, crumbling walls." Much of the Pas-de-Calais region suffered similarly during World War I. After reading All Our Worldly Goods, visitors may wish to take a special trip to the town of Bethune. 90% of the town was destroyed during the war, and over 3,000 soldiers—many unidentified—were buried in the town cemetery. The town was rebuild in the 1920s, and now sports a great many examples of Art-Deco architecture.
Irène Némirovsky did not live to see the publication of All Our Worldly Goods. She died in Auschwitz in 1942, and the novel was published in 1947, after the war. Throughout the book, it is clear that she loved France—the provincial towns in the north as much as Paris. Not only is the book a love story between two people, it's a love story between an author and her country.
Click here to read an excerpt from the book, and click here to download our reading group guide.