Tom McCarthy's Inventive Epic Novel Is Now In Paperback!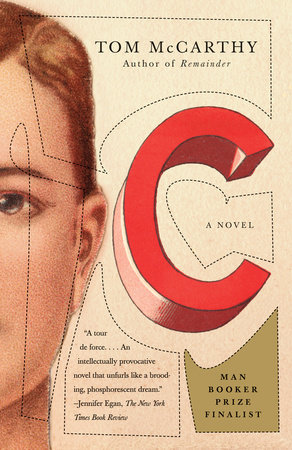 C, by Tom McCarthy, is a wonderfully inspired novel that stretches from the skies of World War I to the tombs of Egypt. It's the story of Serge Carrefax, whose father spends his time experimenting with wireless communication while running a school for deaf children. Serge grows up amid the noise and silence with his brilliant but troubled older sister, Sophie: an intense sibling relationship that stays with him as he heads off into an equally troubled larger world.
Praise for Tom McCarthy's C:
"A tour de force…An intellectually provocative novel that unfurls like a brooding, phosphorescent dream."
—Jennifer Egan, New York Times Book Review
"Remarkable not for its austerity but for its unlikely, panoramic ambition…C is a bird so rare as to seem oxymoronic: an avant-garde epic, the first I can think of since Ulysses."
—Jonathan Dee, Harper's Magazine
"C is clever, confident, coy—and cryptic."
—The Wall Street Journal
"Moving, mordantly funny, deeply absorbing."
—The Boston Globe
"C is coming-of-age as philosophy, philosophy as fiction, fiction as 'dummy-chamber' ('the real thing's beyond')—the novel as encrypted code for life."
—Los Angeles Times
"[An] extraordinary novel….McCarthy reignites the literary pyrotechnics of Perec, Calvino, Joyce and Sebald. Words are celebrated in vocabularic feats….[He] has produced something truly original."
—The Washington Post
Click for more praise, to read an excerpt, and to download our reading group guide.