From The Fifth Queen to Dracula: Classics Make Great Book Club Picks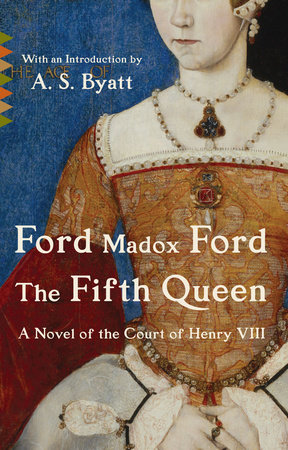 Choosing a classic book for your reading group is a great way to rekindle your love for an old favorite or to make some headway in your "Books to Read…Someday" list (we've all got one, right?). Vintage Classics has recently reissued a number of excellent books, all excellent reading group picks, and all with stunning new covers. Read on for a list of some of our favorites!
The Fifth Queen
Written by Ford Madox Ford
Introduction by A.S. Byatt
Ford Madox Ford's novel about the doomed Katharine Howard, fifth queen of Henry VIII, is a neglected masterpiece. Kat Howard—intelligent, beautiful, naively outspoken, and passionately idealistic—catches the eye of Henry VIII and improbably becomes his fifth wife. A teenager who has grown up far from court, she is wholly unused to the corruption and intrigue that now surround her. Originally published in three parts (The Fifth Queen, Privy Seal, and The Fifth Queen Crowned), Ford's novel serves up both a breathtakingly visual evocation of the Tudor world and a timeless portrayal of the insidious operations of power and fear in any era.
Read an Excerpt | Download Our Reading Group Guide
The Picture of Dorian Gray
Written by Oscar Wilde
Oscar Wilde's enduringly popular story of a beautiful and corrupt man and the portrait that reveals all his secrets. Entranced by the perfection of his recently painted portrait, the youthful Dorian Gray expresses a wish that the figure on the canvas could age and change in his place. When his wish comes true, the portrait becomes his hideous secret as he follows a downward trajectory of decadence and cruelty that leaves its traces only in the portrait's degraded image. Wilde's unforgettable portrayal of a Faustian bargain and its consequences is narrated with his characteristic incisive wit and diamond-sharp prose. The result is a novel that is as flamboyant and controversial as its incomparable author.
Read an Excerpt | Download Our Discussion Questions for Fiction
The Canterbury Tales
Written by Chaucer
A Prose Version in Modern English by David Wright
David Wright's classic translation brings Chaucer's masterpiece of Middle English storytelling into clear modern prose. The Canterbury Tales has entertained readers for centuries, with its comic animal fables, moral allegories, miniature epics of courtly love, and rollicking erotic farces that bring fourteenth-century England to life on every page. The gloriously varied stories, narrated by a group of pilgrims on their way to Canterbury, are peopled with saints, sinners, and ordinary mortals in a vivid panorama of the medieval world. This prose translation renders these tales as accessible and irresistible to modern readers as they were to Chaucer's contemporaries.
Read an Excerpt | Download Our Discussion Questions for Fiction
Dracula
Written by Bram Stoker
Introduction by Joan Acocella
Since its publication in 1897 Dracula has enthralled generations of readers with the alluring malevolence of its undead Count, the most famous vampire in literature. Though Bram Stoker did not invent vampires, his novel helped catapult them to iconic stature, spawning a genre of stories and movies that flourishes to this day. A century of imitations has done nothing to diminish the fascination of Stoker's tale of a suave and chilling monster as he stalks his prey from a crumbling castle in Transylvania's Carpathian mountains to an insane asylum in England to the bedrooms of his swooning female victims. A classic of Gothic horror, Dracula remains an irresistible entertainment of undying appeal.
Read an Excerpt | Download Our Discussion Questions for Fiction
Bel Ami
Written by Guy de Maupassant
Bel Ami, written at the height of Guy de Maupassant's powers, is a classic novel of seduction, intrigue, and ruthless social climbing in belle époque Paris. Georges Duroy is a down-and-out journalist from a humble background who engineers a stunning rise to the top of Parisian society through his relationships with influential and wealthy women. Making the most of his charm and good looks (his admirers nickname him "Bel Ami"), Duroy exploits the weaknesses of others to his own advantage—in the process betraying the woman who has most selflessly supported him. Published in 1885, Bel Ami is not only a vivid portrait of a glamorously corrupt and long-vanished Paris, but also a strikingly modern exposé of the destructiveness of unconstrained ambition, sex, and power.
Read an Excerpt | Download Our Discussion Questions for Fiction
This Side of Paradise
Written by F. Scott Fitzgerald
One of the most brilliant first novels in the history of American literature, the book that launched F. Scott Fitzgerald's literary career. Published in 1920, when the author was just twenty-three, This Side of Paradise recounts the education of a youth, and to this universal story Fitzgerald brings the promise of everything that was new in the vigorous, restless America of the years following World War I. Amory Blaine— egoistic, versatile, callow, and imaginative—inhabits a narrative interwoven with songs, poems, dramatic dialogue, questions and answers. His growth from self-absorption to sexual awareness and personhood is described with continuous improvisatory energy and delight. Fitzgerald's formal inventiveness and verve heighten our sense that the world being described is our own, modern world.
Read an Excerpt | Download Our Discussion Questions for Fiction
The Adventures of Huckleberry Finn
Written by Mark Twain
Long cherished by readers of all ages, The Adventures of Huckleberry Finn is both a hilarious account of an incorrigible truant and a powerful parable of innocence in conflict with the fallen adult world. The mighty Mississippi River of the antebellum South gives the novel both its colorful backdrop and its narrative shape, as the runaways Huck and Jim—a young rebel against civilization allied with an escaped slave—drift down its length on a flimsy raft. Their journey, at times rollickingly funny but always deadly serious in its potential consequences, takes them ever deeper into the slave-holding South, and our appreciation of their shared humanity grows as we watch them travel physically farther from yet morally closer to the freedom they both passionately seek.
Read an Excerpt | Download Our Discussion Questions for Fiction
My Ántonia
Written by Willa Cather
In this powerful and astonishing novel, Willa Cather created one of the most winning yet thoroughly convincing heroines in American fiction. Antonia Shimerda, the daughter of Bohemian immigrants, not only survives her father's suicide, poverty, and a failed romance, she triumphs with high spirits.
Read an Excerpt | Download Our Discussion Questions for Fiction