The Unique Philosophy of Isabel Dalhousie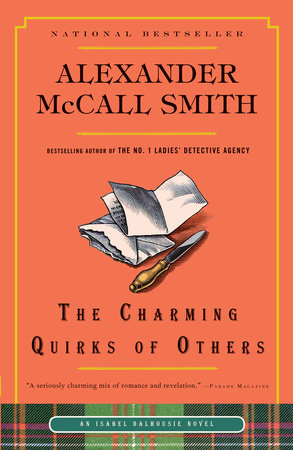 Alexander McCall Smith's endlessly inquisitive heroine, Isabel Dalhousie, returns to sleuth her way through Edinburgh in The Charming Quirks of Others. From morality to chocolate, Isabel Dalhousie has an opinion on—or rather, a philosophy for—everything!
In The Charming Quirks of Others, Isabel is asked to investigate the final three candidates for headmaster at the local boys' school. What she discovers about the candidates is surprising, but what she discovers about herself and about Jamie, the father of her young son, turns out to be equally revealing. Click to read an excerpt and to download our reading group guide. For more from Alexander McCall Smith, visit his official website.
Plus, as part of our Fall Reading Group Author Chat Sweepstakes, we're giving your reading group the opportunity to win a Skype chat with Alexander McCall Smith! Click to enter the contest.
We love Isabel's unique take on the world, and in celebration of her return, we've gathered a few of our favorite quotes from the series. Share our special Dalhousie broadside with your book club, and consider printing copies for everyone to keep!
(If you have trouble viewing the embedded document below, click here to view it on the Scribd website.)