Video: Watch Alexander McCall Smith Discuss The Saturday Big Tent Wedding Party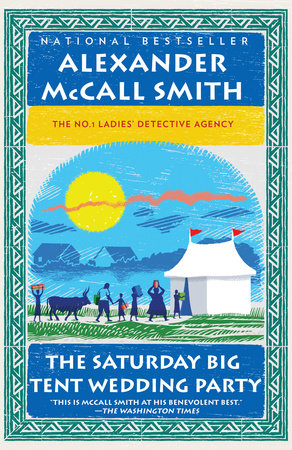 Read an Excerpt • Print a Reading Group Guide
In The Saturday Big Tent Wedding Party—the latest installment in Alexander McCall Smith's bestselling No. 1 Ladies' Detective Agency series—Precious Ramotswe faces two confounding cases: the mysterious fate of some cows, and the ghost-like reappearance of her dear old white van. As ever, Precious will draw on her trademark grace and wisdom as she helps unravel all these tangled threads. Click through to watch video of Alexander McCall Smith discussing the book, plus read Mma Ramotswe's guide to wedding etiquette!
The Story of The Saturday Big Tent Wedding Party:

Mma Ramotswe's Wedding Ps and Qs:
(If you have any trouble viewing the Scribd widget below, please click here to read.)

Click to download our reading group guide and to read an excerpt from the book.