Five Great Reading Group Books Set In Africa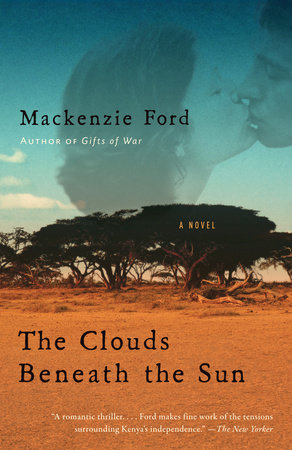 The Clouds Beneath The Sun by Mackenzie Ford is an extraordinary novel set in Kenya in 1961. Hoping to escape painful memories of her past, archeologist Natalie Nelson accepts an invitation to join a famous excavating team's dig in the Serengeti. Before she can get her bearings, the dig is surrounded by controversy involving the local Maasai people, and Natalie is swept up in a passionate affair that threatens to spark even more violence and turmoil. Inspired by the book's rich setting, we've compiled a list of great reading group books set in Africa.
Click to download a reading group guide for The Clouds Beneath The Sun and to read an excerpt from the book.
Mating
Written by Norman Rush
National Book Award Winner! The narrator of this splendidly expansive novel of high intellect and grand passion is an American anthropologist at loose ends in the South African republic of Botswana. She has a noble and exacting mind, a good waist, and a busted thesis project. She also has a yen for Nelson Denoon, a charismatic intellectual who is rumored to have founded a secretive and unorthodox utopian society in a remote corner of the Kalahari—one in which he is virtually the only man. What ensues is both a quest and an exuberant comedy of manners, a book that explores the deepest canyons of eros even as it asks large questions about the good society, the geopolitics of poverty, and the baffling mystery of what men and women really want.
Reading Group Guide | Buy the Book
The Bolter
Written by Frances Osborne
In an age of bolters—women who broke the rules and fled their marriages—Idina Sackville was the most celebrated of them all. Her relentless affairs, wild sex parties, and brazen flaunting of convention shocked high society and inspired countless writers and artists, from Nancy Mitford to Greta Garbo. But Idina's compelling charm masked the pain of betrayal and heartbreak. Now Frances Osborne explores the life of Idina, her enigmatic great-grandmother, using letters, diaries, and family legend, following her from Edwardian London to the hills of Kenya, where she reigned over the scandalous antics of the "Happy Valley Set." Dazzlingly chic yet warmly intimate, The Bolter is a fascinating look at a woman whose energy still burns bright almost a century later.
Read an Excerpt | Reading Group Guide | Buy the Book
Rules of the Wild
Written by Francesca Marciano
Romantic, often resonantly ironic, moving and wise, Rules of the Wild transports us to a landscape of unsurpassed beauty even as it gives us a sharp-eyed portrait of a closely knit tribe of cultural outsiders: the expatriates living in Kenya today. Challenged by race, by class, and by a longing for home, here are "safari boys" and samaritans, reporters bent on their own fame, travelers who care deeply about elephants but not at all about the people of Africa. They all know each other. They meet at dinner parties, they sleep with each other, they argue about politics and the best way to negotiate their existence in a place where they don't really belong. At the center is Esmé, a beautiful young woman of dazzling ironies and introspections, who tells us her story in a voice both passionate and self-deprecating.
Read an Excerpt | Reading Group Guide | Buy the Book
The Saturday Big Tent Wedding Party
Written by Alexander McCall Smith
The latest installment in the charming, bestselling No. 1 Ladies' Detective Agency series. As Mma Ramotswe investigates the deaths of cows at a cattle post outside Gaborone, she finds herself also pursuing other mysteries closer to home. One of Mr. J.L.B. Matekoni's apprentices appears to have gotten a girl pregnant, and has run away to avoid marrying her. Meanwhile, Precious sees her beloved old van—sent to the junkyard long ago—trundling around the city again. Has the van been miraculously revived, or is she hallucinating? Further complicating matters are Violet Sephotho's newly launched campaign for a seat in Botswana's parliament, and Grace Makutsi's growing fears that she'll never be able to marry her fiancé Phuti Radiphuti if she can't find the perfect pair of wedding shoes. As ever, Precious will draw on her trademark grace and wisdom as she helps unravel all these tangled threads.
Read an Excerpt | Reading Group Guide | Buy the Book