Queen Elizabeth's Astronomer: John Dee and Prophecy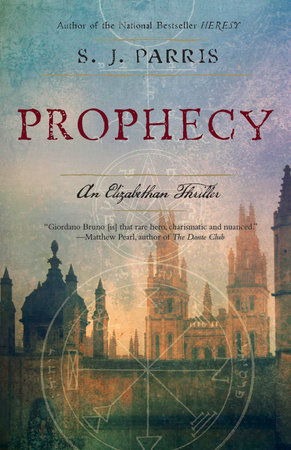 Heresy by S. J. Parris introduced us to Giordano Bruno, a fugitive Italian monk who finds himself employed by Queen Elizabeth on an undercover mission. The character of Bruno was based on a historical figure—although the real Bruno probably didn't solve mysteries for the queen. Now, Bruno is back in Prophecy, a thriller laced with black magic. Prophecy introduces a new character: John Dee, the queen's astronomer, also based on a historical figure.
The real John Dee was born in 1527 in London, England. He was educated at St. John's College in Cambdrige, made a founding fellow of Trinity College, and traveled Europe in order to study cartography and mathematics. He gained a reputation as a magician early in his life, apparently after creating an accomplished set of stage effects for a play performed at Trinity. After returning to England, Dee became Queen Mary I's consultant-astrologer, a position that led to accusations of conjuring and, eventually, imprisonment. Although he was freed not long after, accusations such as this would circle him the rest of his life. When Elizabeth was crowed queen, Dee was asked to choose the day of her coronation. Elizabeth liked Dee and took him on as her personal astrologer and medical advisor.
Although best known for his knowledge of the occult, Dee's accomplishments were rich and varied. At one time, he owned the largest private library in all of England–4,000 books strong. He published on both matters both supernatural (The Hieroglyphic Monad, a discussion of a symbol intended to "express the mystical unity of all creation") and scientific (a preface to Euclid's Elements discussing the wide influence that mathematics had on other disciplines). Later in life he turned more frequently to the supernatural, believing that he could make contact with angels. Dee fell out of the royal court's favor after Elizabeth's death, and he died impoverished in 1608.
Parris is not the first writer to take on Dee's legacy: it is thought that Shakespeare modeled The Tempest's Prospero on him. More recently, Damon Albarn penned Dr Dee: An English Opera; the biographical work premiered in 2011 in Manchester and will play in London this summer, in a festival coinciding with the 2012 Summer Olympics.
Click to read an excerpt from Prophecy and to download our reading group guide.