Alix Ohlin Explores Our Hidden Lives in Inside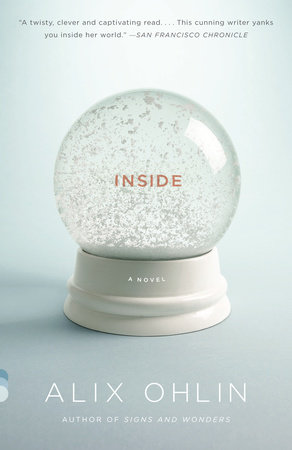 Alix Ohlin's Inside is a novel of extraordinary depth and complexity that follows the intertwined lives of several sets of characters. Grace is an exceedingly competent and devoted therapist living in Montreal. When she stumbles across a man who has just failed to hang himself, her instinct to help kicks in immediately. Before long, however, she realizes that her feelings for this charismatic, extremely guarded stranger are far from straightforward.
In the meantime, her troubled teenage patient, Annie, runs away to pursue an acting career, and Grace's ex-husband Mitch leaves the woman he's desperately in love with to attend to a struggling native community in the bleak Arctic. As we follow these four compelling, complex characters, Ohlin gives them each a consciousness that is utterly distinct and urgently convincing.
Read praise for Inside:
"A twisty, clever and captivating read…. This cunning writer yanks you inside her world." —San Francisco Chronicle
"Wondrously engrossing…. [These characters] could be your family, your neighbors, people you work with…. Resonant and haunting." —The Boston Globe
"A subtle, intricate novel…. As these lives intersect over a decade, barriers crumble, secrets emerge, and this emotional jigsaw puzzle locks satisfyingly into place." —More
"Ohlin writes in elegant prose that is flush with wit and style, as clever and smooth as Lorrie Moore." —The Rumpus
"You can't help but become invested in Inside. Ohlin displays a profound empathy for people at their least rational—and most human." —Entertainment Weekly
"Can any of us really save another person? Or is each of us solely responsible for his or her own life? That's the question lurking behind [this] astute novel." —Oprah.com