Armchair Adventurer: Exploring London With a Conspiracy of Friends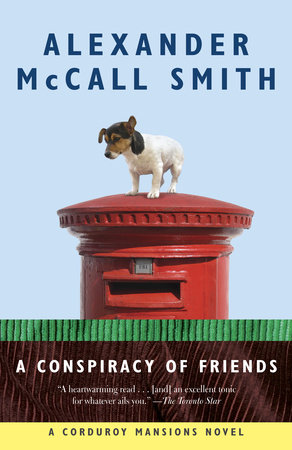 There's no shortage of things to do and see while visiting London, but after reading Alexander McCall Smith's delightful Corduroy Mansions series, one might find him or herself particularly drawn to the Pimlico neighborhood. Located at the center of London, Pimlico is a great home base for exploring of the city's most famous attractions. In celebration of the paperback publication of the third book in the series, A Conspiracy of Friends, we take a look at some of the most unmissable sights in and around the neighborhood.
The Abbey is both a house of worship and a landmark of English history. It has been the site of 38 coronations and 16 royal weddings, and it serves as the final resting place for 17 monarchs—not to mention a host of famous artists, musicians, actors, and writers (Charles Dickens, Geoffrey Chaucer, Rudyard Kipling, Alfred Tennyson…just to name a few!). The Abbey is open for worship daily, and open to visitors Monday through Saturday. Take a guided tour so as not to miss the many architectural and historical highlights, and don't miss the Abbey museum, which hosts a collection of royal artifacts.
One of the area's most famous landmarks is Westminster Abbey.
Just across the way from Westminster Abbey are the Houses of Parliament. Also known as the Palace of Westminster, this was once the official residence of the English Royal family and is now the meeting place of the House of Commons and the House of Lords. Located at the north end of Westminster is one of London's most iconic structures: Elizabeth Tower, better known as "Big Ben." UK residents can arrange 75-minute tours of Westminster via their MP, free of charge, and may also arrange for a separate tour of Big Ben. Visitors from outside of the UK may tour the Houses of Parliament via a tour on Saturdays and Sundays (for a fee)—but, unfortunately, they must only admire Big Ben from the outside.
A bit further from the neighborhood center (but worth the trip!) is the Tate Modern, a must-see for modern art aficionados. Located inside a renovated power station, the Tate Modern has seven floors to explore. Highlights from the museum's permanent collection—which begins in 1900—includes works from Picasso, Monet, Rothko, Mondrian, Lichtenstein, Pollack, Matisse, Kandinsky, and more. Visit the museum's website to see what special exhibitions will be showing during your visit.
Once you've had your fill of history and art, return to Pimlico to refuel at one of the neighborhood's eateries. Locals give high marks to The Regency Cafe (for classic, inexpensive British food), Kazan (for authentic Turkish dishes), and Seafresh (for fish and chips). Those looking for something more upscale might consider The Cinnamon Club, an Indian haute cuisine restaurant with an impressive wine list.
Whew! That's quite a trip you have planned—looks like you might need a great book to relax you at the end of the day. Don't forget to pack your copy of A Conspiracy of Friends, and have fun!
Photo Credits: Top (Westminster Abbey): Flickr User OwenXu. Bottom (Big Ben): Flickr User graziano88. Licensed under Creative Commons.